"Burn ISIS Flag Challenge – @BURNISIS – LEBANON حرق علم داعش"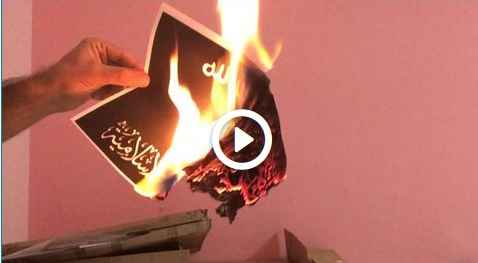 By Rakesh Raman
A hand appears in a YouTube video holding a black paper sheet with words written in white color – perhaps in Arabic language. The other hand emerges with a lighter and burns the paper. It is about burning the flag of terrorist outfit ISIS (Islamic State of Iraq and Syria).
The video has the caption: "Burn ISIS Flag Challenge – @BURNISIS – LEBANON حرق علم داعش".
From the caption, it appears that the "Burn ISIS Flag Challenge" began from Lebanon to mobilize public support against the ISIS terrorists.
---
Related Stories:
Al-Qaeda Terror Group Enters India. What Does It Mean to You?
Welcome to the "Islamic Terror State" ISIS: Video Message
Mr. Obama, Are Islamic State Terrorists Really Good on Social Media?
BJP to Muslims: When in India, Do as the Hindus Do
What President Obama Says on ISIL Terrorism
---
But as the video has no sound and no human face, it can also be the handiwork of government security agencies which run such psyops (psychological operations) clandestinely as part of the psychological warfare to demoralize the criminals.
The Twitter account of "Burn ISIS Flag Challenge" has given an e-mail address with the message: "Muslim against ISIS – ISIS does not represent Islam".
With only 41 tweets, the @BURNISIS handle on Twitter had just 281 Followers at the time of publishing this report today (Sept. 11) while it is Following 1,806. That means, this Twitter account is not quite popular.
However, the related YouTube video has got more than 133,000 views till today since it was uploaded on August 30, 2014.
By Rakesh Raman, the managing editor of RMN Company
You also can read: More Articles by the RMN Editor, Rakesh Raman