The Economist Group's First Bilingual Chinese-English App
|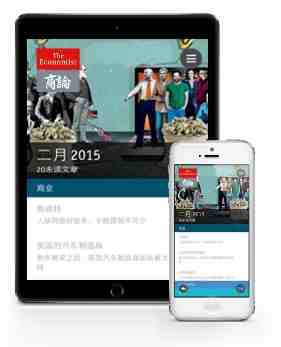 The Economist Global Business Review
The Economist Group launched Tuesday a new digital app The Economist Global Business Review, focused on delivering analysis on global trends in business, finance and technology.
As the first in a planned series of local-language offerings, the bilingual Chinese-English app allows The Economist Group to reach a new set of global business leaders in markets like mainland China, Hong Kong, Taiwan, Malaysia and Singapore, says the company.
The Economist Global Business Review is the first bilingual product featuring Economist content to be offered in the 171-year history of the weekly publication.
[ Global Economic Race: China No. 1, America No. 2 ]
"For many years we wrote off the idea of foreign-language editions as too expensive and impractical. However, the rise of digital technology changes the game. We can now deliver content quickly and without the cost constraints of print publishing," said Tom Standage, deputy editor of The Economist.
The bilingual app works in either English-Simplified-Chinese or English-Traditional Chinese and is available for iOS and Android smartphones and tablets.
Headquartered in London, The Economist Group is a leading source of analysis on international business and world affairs.
Leave a Reply