Now It's SMAC – Social Media, Mobility, Analytics, Cloud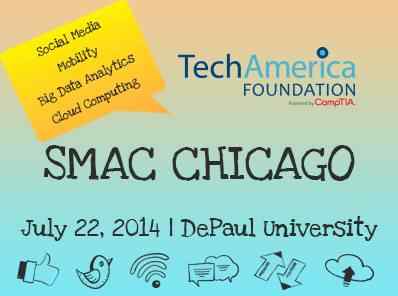 The TechAmerica Foundation is hosting SMAC Chicago, a half-day forum that examines the intersection between social media, mobility, big data analytics and cloud computing (SMAC) in the public sector. The forum will take place at DePaul University's Loop Student Center on July 22 in Chicago.
SMAC Chicago, sponsored in partnership with DePaul's College of Computing and Digital Media, will provide a forum for examining how government and industry are confronting the challenges and opportunities brought on by the convergence of emerging technologies.
The forum is a precursor to the launching of the TechAmerica Foundation's new commission which will provide recommendations to the U.S. Administration on the SMAC convergence and its impact on improving government efficiency, services and capabilities while driving innovation and the economy.
"Taken together, social media, mobility, big data and cloud computing represent immense potential for designing services and policies that better serve customers and constituents," said Elizabeth Hyman, executive vice president, public advocacy, TechAmerica.
"At SMAC Chicago, we'll unpack how organizations can tap into these resources while guaranteeing the increased transparency and security measures required to maintain trust and to allow these platforms to grow."
SMAC Chicago speakers include government officials and leaders from think tanks, research universities and technology firms.
Brenna Berman, commissioner and CIO, Chicago Department of Innovation and Technology, will deliver the event keynote address. Michael Schamberger, partner and mid-west technology practice leader, Grant Thornton, will moderate a panel of speakers.
For more information, or to register for the event, visit here.
Launched in 1981, the TechAmerica Foundation is a non-profit, non-partisan affiliate of TechAmerica, the public sector and public advocacy department of CompTIA.
Photo courtesy: TechAmerica