IBM Opens New Cloud Resiliency Center
|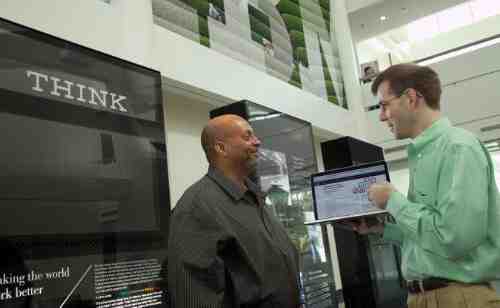 IBM (NYSE: IBM) today announced the opening of its new cloud resiliency center in Research Triangle Park (RTP), North Carolina.
The new cloud resiliency center provides business continuity capabilities in the cloud to protect companies from potential costly disruptions.
IBM is working with enterprise clients around the world as they take advantage of cloud and mobile computing as growth opportunities.
This year, IBM will also be opening two new cloud-based resiliency centers in Mumbai, India and Izmir, Turkey.
These new facilities— which will join the 15 other global centers planned by SoftLayer and 150 resiliency centers— will speed up recovery times by virtually eliminating network latency while allowing businesses to manage federal and local data residency compliance regulations, says IBM.
In the picture above: In the new IBM Cloud Resiliency Center in Research Triangle Park, Mark Dean (left) project manager, reviews with cloud specialist Michael Flaig the plan to protect a financial institution from losing its data in the event of a natural disaster.
Leave a Reply