How to Measure a TV Program's Popularity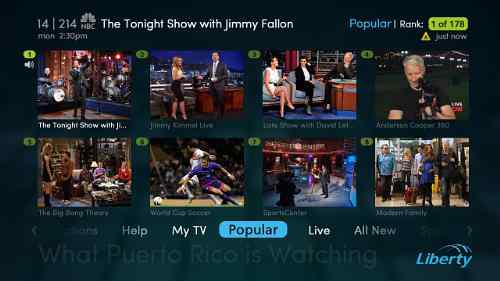 Liberty Puerto Rico and ActiveVideo announced Wednesday that they are showcasing a major advance in how viewers find television content in a social context, with the launch of a cloud-based personalized user interface that uses real-time viewing metrics to display program popularity.
Using the power of Cloud UIs, Liberty Puerto Rico is delivering to existing set-top boxes (STBs) a video-rich personalized mosaic – named Social Content Navigator — that enables content discovery based on what is trending across communities and in areas of personal interest.
The cloud-based mosaic overcomes the limitations of single-tuner STBs to simultaneously display on a single screen up to eight different live video channels. Web-based metadata provides continuously updated rankings of viewership for each of the channels.
[ Also Read: 10 Reasons I Like Indian TV Shows ]
"The cloud is enabling cable system operators to quickly and cost-effectively reinvent services to meet the expectations of consumers," said Naji Khoury, president and CEO for Liberty Puerto Rico.
"CloudTV is playing an essential role in our ability to combine unprecedented scale and service velocity in our deployment of new functionality, such as the Social Content Navigator."
Liberty has partnered with ActiveVideo to use ActiveVideo's CloudTV software platform to make the Social Content Navigator available at scale on existing guide and UI platforms, regardless of device limitations.
[ Click here to get more news on TV Content ]
By authoring the UI in HTML5, rendering it in the cloud and streaming it to any STB, Liberty is delivering Social Content Navigator functionality to all set-tops, including those that lack browsers.
Rollout of the Social Content Navigator has begun in Liberty's Puerto Rico system. Availability to all of Liberty's 250,000 subscribers in Puerto Rico is anticipated by the end of 2014.
"Cloud UIs are expanding the breadth of new services – including VOD, online video and others – that pay TV providers can offer on any device," said Jeff Miller, president and CEO of ActiveVideo.
"Liberty Puerto Rico's Social Content Navigator mosaic shows how CloudTV can increase engagement with every customer without the cost or time-to-market delays of deploying new devices."
Liberty Puerto Rico is a subsidiary of Liberty Global, with close to 500,000 subscriptions in 45 municipalities in the eastern, central and northern regions of Puerto Rico.
ActiveVideo is a Silicon Valley company that harnesses the power of the cloud to accelerate multi-platform television experiences.