Evaidya Health App Connects Patients with Doctors in India
|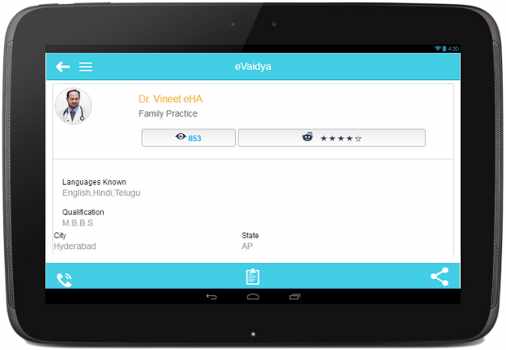 A new app available for Android and Apple devices enables patients to ask top doctors questions on a range of medical issues, connecting instantaneously with India's leading physicians.
Evaidya, an app named by combining e (for electronic) with Vaidya, the ancient Sanskrit word for doctor, puts medical advice within reach of patients across India.
The app allows users to ask doctors questions and consult specialists for second opinions in all areas of health, including cardiology, sexology, gynecology, urology, neurology, dermatology, pediatrics and general medicine as well as dental care.
In addition to allowing users to consult qualified physicians in a range of specializations, the health app can also provide a free and easy way for patients to organize their health records.
It includes a feature that can monitor blood pressure and glucose trends graphically and view health questions in a database that allows quick reference based on health condition.
Users can also opt to receive daily health tips and medication reminder alerts as well as upload diagnostic reports and photos for a doctor to review.
Evaidya's goal is to provide a way for patients to connect with doctors, providing access around the clock and instant consultations with a doctor by phone. Doctors can be selected by ratings and reviews.
The Evaidya website also includes articles on a range of health topics, with advice offered by experienced physicians, as well as a Q & A section, a health forum, daily health tips, a health blog, health plans and much more, allowing additional ways for anyone to connect with doctors and medical advice 24/7.
The app can be downloaded at the Google Play store and at the iTunes store.
Photo courtesy: Evaidya
Leave a Reply