Yahoo's New Digital Magazine: Yahoo Autos
|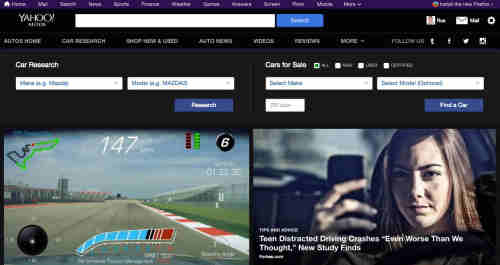 Yahoo Autos
Yahoo Autos, a new digital magazine, aims to cover unreleased cars, a redesigned new car research tool, exclusive interviews, breaking news and more.
Yahoo Autos guides gearheads, first-time car buyers and everyone in between to the information they need, says the company. This is the 13th digital magazine that Yahoo has launched to date.
Yahoo's Digital Magazine titles include Yahoo Beauty, Yahoo Movies, Yahoo Parenting, Yahoo Style, and Yahoo Travel.
Yahoo Autos features original videos, photography and stories created by a group of automotive experts including Managing Editor Justin Hyde, Editor-at-Large Alex Lloyd and Road Test Editor Aki Sugawara.
[ Also Read: Yahoo Introduces Yahoo Politics Digital Magazine ]
You also can find Yahoo Autos content within the recently refreshed Yahoo app on iOS and Android.
"Even before it was a digital magazine, Yahoo's autos coverage was an industry-leading site with its in-depth articles, original content, and breaking news," said Susan Kittenplan, VP & executive editor, New Media Initiatives. "Moving forward, Yahoo Autos will have a rich, visual experience, with even more refined content that all car enthusiasts and buyers will love."
Yahoo Autos will launch with sponsor BMW. BMW's campaign for the new 6 Series will connect with readers through high-impact images within Yahoo Splash Ads, as well as video and display advertising on Yahoo Autos. BMW will also engage in-market car buyers through Yahoo Audience Ads across the network.
Photo courtesy: Yahoo
Leave a Reply