Digital Calendar with Christmas Music Released
|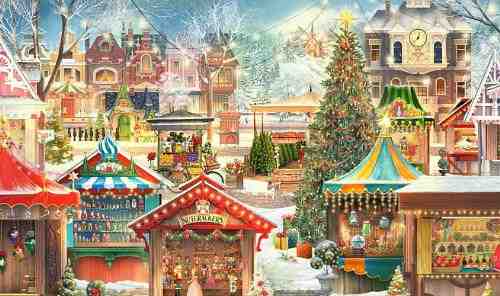 Jacquie Lawson Advent Calendar
Each day from December 1st to 25th, the fun begins with searching for a glowing red ornament within the main market scene and clicking it to reveal a new surprise.
Some are interactive games or puzzles, such as designing Christmas tree ornaments or dressing dolls in traditional European costumes; others are charming animated stories along the lines of e-cards.
The main Christmas Market scene is also full of animated detail, becoming gradually prettier and more festive as Christmas approaches, says the company.
---
Related Stories:
There's a built-in music player loaded with a selection of seasonal classics, and the daily animations are accompanied by specially arranged Christmas music.
For the second year, Salisbury Cathedral Choir collaborated with the musical production. The European theme of the calendar is reflected in their contribution, with carols sung in the original German, French and even Polish.
"It's hard to believe that this is our fifth Advent Calendar already," said Mike Hughes-Chamberlain, co-founder of jacquielawson.com. "There's an astonishing amount of work that goes into them, but we regularly hear from families that our Advent Calendars have become a part of Christmas almost as important as Santa Claus and roast turkey!"
The Jacquie Lawson Advent Calendar is available for both PC and Mac operating systems at $4 – or $2 when purchasing ten or more.
Last year's Edwardian version for PC/Mac has been given a 2014 refresh, and iPad fans can also enjoy the London-themed calendar and the original village – both are available in the iTunes Store.
Jacquie Lawson lives in the picturesque English village of Lurgashall, in West Sussex. She trained as an illustrator at St. Martin's School of Art, and has many years' experience in drawing, painting and design, including architectural perspectives, book illustration and cartoons.
Leave a Reply