Wanna Stream Your Web Photos into a Mosaic? Download Kwilt
|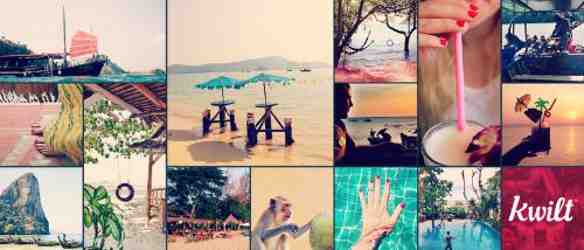 Kwilt mobile application can help you create a personal and complete live digital photo stream by seamlessly gathering digital images from Facebook, Instagram, Flickr, Google+, Google Drive, Dropbox, DLNA Certified servers, iPhones and iPads.
Kwilt reconnects users with their personal photos – often scattered across the web – by bringing them together in one streaming media platform.
One of Kwilt's features is Kwilt Capture, enabling users to create a customized collection of images that can be shared with friends through social media or email.
Also, with 16 photo editing tools, Kwilt enables image-editing and enhancements, cropping, as well as drawing and stickers, to add color and humor to any image. Users can then share them through social media accounts.
Founded by veteran photo entrepreneur Marc-Antoine Benglia, Kwilt says it will make photo aggregation pain-free, cross platform and beautiful, solving the multiple cloud storage mayhem consumers face.
"Today's user is storing photos across so many social channels that it's impossible to keep track," Benglia says. "Kwilt breaks the barriers between sources. Where your files are stored becomes irrelevant. All of your images are now available at your fingertips, streamed from your favorite platforms in real time."
You can download Kwilt.
Leave a Reply