Top Yahoo Searches and Most Viral Tumblr Blogs of 2014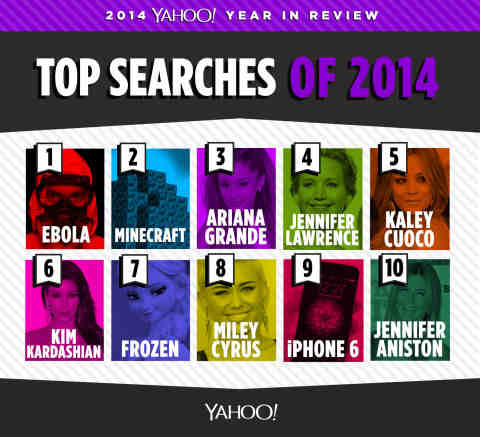 Yahoo has announced the 2014 Year In Review, a look at the daily search habits of Yahoo users. And for the second time, Yahoo Year In Review also gives a look into the top trends from Tumblr.
[ Also Read: Topless Kim Kardashian on Top: Bing Search Trends ]
This year's top searches on Yahoo include a national obsession, an international crisis and some favorite female stars.
Top Searches on Yahoo in 2014
1. Ebola
2. Minecraft
3. Ariana Grande
4. Jennifer Lawrence
5. Kaley Cuoco
6. Kim Kardashian
7. "Frozen"
8. Miley Cyrus
9. iPhone 6
10. Jennifer Aniston
Top Obsessions on Yahoo in 2014 (top-searched + top gainers)
1. ALS Ice Bucket Challenge
2. Flappy Bird
3. Frozen
4. "50 Shades of Grey"
5. "American Ninja Warrior"
6. The Duggars
7. "All About That Bass"
8. Katniss Everdeen
9. Cleanses
10. Polar Vortex
Top 10 Most Viral Blogs on Tumblr in 2014
Top 10 Most Reblogged Musical Acts on Tumblr in 2014
1. 5 Seconds of Summer
2. One Direction
3. Beyonce
4. Fall Out Boy
5. Lana del Rey
6. All Time Low
7. Justin Bieber
8. Taylor Swift
9. Kanye West
10. My Chemical Romance
Top-Searched News Stories on Yahoo in 2014
1. Ebola epidemic
2. Death of Robin Williams
3. Elections 2014
4. Leaked photos 2014
5. Malaysia Airlines tragedies
6. Michael Brown shooting in Ferguson, Mo.
7. Jodi Arias sentencing
8. ISIS
9. Ray Rice domestic violence
10. Obamacare
Top-Searched Sports Moments on Yahoo in 2014
1. World Cup: Home team favorite Brazil falls to Germany in the semi-finals
2. World Series: Giants win their third title in five years with Madison Bumgarner
3. Super Bowl: Seahawks strong defense triumphs over Peyton Manning and the Broncos in stunning fashion
4. Sochi Winter Olympics
5. NFL rocked by domestic violence issues: Ray Rice, Adrian Peterson
6. Oscar Pistorius trial
7. Tony Stewart car accident fatality
8. LeBron James returns to Cleveland
9. Donald Sterling: Racism scandal forces Sterling to sell his NBA team
10. Derek Jeter retires from baseball as a New York Yankee
Top-Searched Consumer Technology on Yahoo in 2014
1. Apple iPhone 6
2. Samsung Galaxy s5
3. Samsung Galaxy Note 4
4. GoPro
5. Apple iPad Mini
6. Microsoft XBOX One
7. Amazon Kindle
8. Sony Playstation 4
9. Apple iPad Air
10. Microsoft Surface Pro 3
Top Stars You Want to See Without Makeup on Yahoo in 2014
1. Sofia Vergara
2. Mila Kunis
3. Jennifer Lawrence
4. Joan Rivers
5. Faith Hill
6. Marilyn Manson
7. Iggy Azalea
8. Kim Kardashian
9. Ariana Grande
Top-Searched Lyrics on Yahoo in 2014
1. "Let It Go" from "Frozen"
2. "All of Me" by John Legend
3. "Problem" by Ariana Grande
4. "Say Something" by A Great Big World
5. "Stay With Me" by Sam Smith
6. "Counting Stars" by OneRepublic
7. "Drunk in Love" by Beyonce
8. "Fancy" by Iggy Azalea
9. "Black Widow" by Iggy Azalea
10. "Hallelujah" by Leonard Cohen
Top-Searched Health Gurus on Yahoo in 2014
1. Jillian Michaels
2. Dr. Oz
3. Sanjay Gupta
4. Deepak Chopra
5. Jamie Oliver
6. Andrew Weil
7. Bethenny Frankel
8. Mark Bittman
9. Tim Ferriss
10. Michael Pollan
Here is more information on Yahoo's 2014 Year In Review.
To develop the Yahoo Year In Review, Yahoo says its editors analyze Yahoo Search queries based on a number of factors, including volume and growth from previous periods, to see which themes and trends bubble to the surface. According to Yahoo, individuals and their search queries always remain anonymous.