Taiwan Startups Looking for Partners in Silicon Valley
|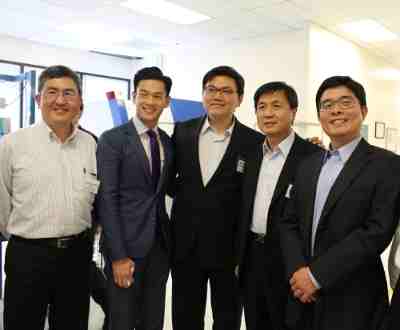 Taiwan Minister of Science and Technology, Minister Shyu Jyuo-min (徐爵民) and Taiwan Minister of Executive Yuan, Dr. Yan Hong-Sen (顏鴻森) visited Silicon Valley's accelerators including Coinx, Plug and Play and Founders Space. It was announced by Coinx on Tuesday.
The Ministers were in search of partnering with local accelerators to create a linkage between Taiwan startups and Silicon Valley.
During the Ministers visit, an event was held at Coinx's office in Milpitas to introduce the company's vision of providing an accelerator-based environment for late startups and growth companies to create exit and expansion strategies.
[ Wanted: Indian Entrepreneurs with Global Ambitions ]
The event showcased Coinx as an asset to Taiwan's emerging market of innovation and entrepreneurship. Minister Shyu was very impressed with the local resources, connections, and facility of Coinx including its partner facility that integrates rapid prototyping production which in return can provide startups and growth companies with endless opportunities.
California State Assembly member, Evan Low and former Mayor of Cupertino, Dr. Michael Chang also attended this event. "It is wonderful to see the type of infrastructure Coinx has in place to allow for creativity to occur and no doubt this will be a great opportunity for the next generation of entrepreneurs in the region," says Evan Low.
[ Microsoft Hosts Venture Capital Event for Startups in China ]
According to the Global Entrepreneur Index 2015, Taiwan is ranked eighth as the most entrepreneurial country in the world out of 130 countries in 2015. The rapidly growing entrepreneur space has positioned Coinx as a Silicon Valley accelerator hub that empowers international late startups and growth companies.
The result of the event created a strong connection between Taiwan and Silicon Valley with a common purpose of creating the next generation of industries in technology and entrepreneurship.
Dr. Eric Huang (黃梓洋), founding partner of Coinx, stated, "We look forward to collaborating with the Ministers and we appreciate their support of Coinx's vision in creating opportunities for Taiwan Innovation and Entrepreneurship here in Silicon Valley."
In the picture above: (From left to right) CEO of TIEC, Dr. Larry Wang; California State Assembly Member-Evan Low; Founding Partner of COINX-Dr. Eric Huang; Minister of Science and Technology-Dr. Jyuo-Min Shyu and Director of TECO, Dr. Ting-An Wang
Leave a Reply