StoryTeller Brings Social Media Feedback to Newsrooms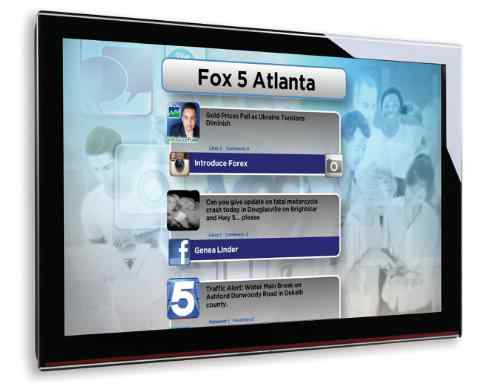 Social media has the unique advantage of giving newsrooms instant feedback, opinions, and visual content from viewers as stories are breaking.
With the launch of the improved StoryTeller Social Media App at the 2014 National Association of Broadcasters (NAB) Show, newsrooms will now have the ability to import popular social media feeds with viewer comments and images with greater ease and effectiveness in StoryTeller Interactive Touchscreen Solution created by AccuWeather.
New features also allow the app to import video and dynamically screen and sort all content for on-air use. Best of all, according to AccuWeather, downloading and using the expanded Social Media App is as fast and easy as adding an app to a smartphone.
[ Also Read: Your Trusted News Source – TV, Online, Print, or Social Media? ]
"Social Media has provided newsrooms with an unprecedented ability to integrate on-location and up-to-the minute user contributed content with breaking news stories," said Ryan Ayres, VP of Display Systems and Services for AccuWeather. "The enhanced StoryTeller Social Media app makes importing, sorting, and screening social images, comments, and now even video and hashtags, a seamless part of interactive news presentations."
The StoryTeller Social Media App interfaces with popular social media platforms including Facebook, Twitter, new Google+ and Instagram, and will soon add the new Vine social video platform.
The Social Media App now also allows newsrooms to quickly find social trends and commentary through Twitter hashtag searches, import videos from Facebook, Instagram, and Google+, and deliver appealing and on-the-spot images through Instagram.
The social media preview function allows newsrooms to efficiently sort and pre-screen all posts for on-air use.