Shiv Nadar of HCL Receives Corporate Citizen Award
|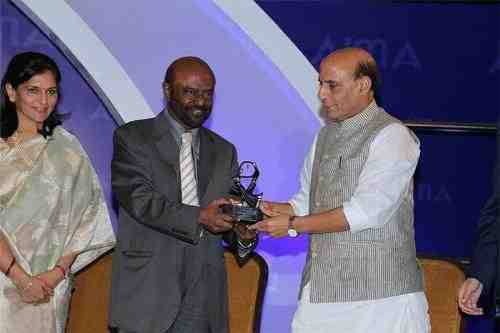 The All India Management Association, an apex body of professional management in India set up in 1957, awarded the AIMA Corporate Citizen Award 2014 to Shiv Nadar, Founder & Chairman, HCL and Shiv Nadar Foundation, for his efforts in philanthropy.
"The Shiv Nadar Foundation would continue to harness the power of inclusive education to bridge the urban-rural divide and drive exponential social transformation in India by creating leaders from every socio-economic segment," said Shiv Nadar.
"I congratulate Shiv Nadar for the award and for his truly exemplary work in institution building and education," said Sanjiv Goenka, Chairman of the Jury, AIMA Managing India Awards 2014 & Chairman, RP-Sanjiv Goenka Group.
[ Also Read: Anand Mahindra Honoured with Harvard Medal ]
[ Also Read: Uday Kotak from India Named EY Entrepreneur of the Year ]
[ Also Read: Kiran Mazumdar-Shaw Awarded the Global Economy Prize ]
Shiv Nadar, acknowledged as visionary in modern computing and technology in India, founded HCL in 1976 as one of India's original IT garage start-ups.
Currently, HCL comprises three companies in India – HCL Technologies, HCL Infosystems and HCL Healthcare with annual revenues of US$ 6.5 billion.
It employs over 95,000 professionals from diverse nationalities operating across 31 countries including over 500 points of presence in India.
[ Also Read: Meet the Uneducated Education Minister of India ]
In 1994, he established the Shiv Nadar Foundation, a private philanthropic organization. Cliamed to be a significant driver of social change and transformational education, the Foundation has set up institutions in India spanning the entire education spectrum, from universities and colleges to K-12 schools.
Raman Media Network says: These are meaningless awards largely driven by lobbying and public relations (PR) rather than the real achievements of an organization or an individual. And most of these people in India run huge money-making outfits under the garb of philanthropic organizations. India continues to be an underdeveloped country in a miserable state. You can ignore such awards.
These include the SSN Institutions, an engineering college in India; the Shiv Nadar University, a multidisciplinary university with strong research orientation and Vidya Gyan, a radical experiment in leadership development through free residential education to meritorious rural poor children.
It was stated that the Foundation has invested Rs 2,946 crore till March 2014 as per audited accounts, and is on course to spend Rs 3,000 crore committed in 2013 over the next 5 years.
In the picture above: Shiv Nadar receiving the award from Rajnath Singh, Minister of Home Affairs, Government of India.
Leave a Reply