Samsung Portal Allows You to Know About Display Panels
|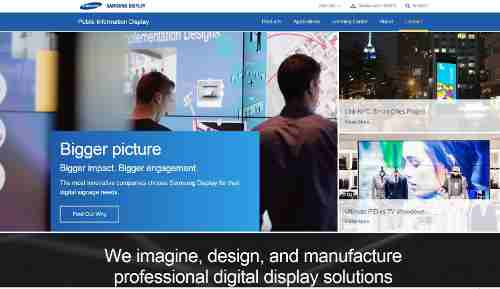 Samsung Display announced Wednesday that it has launched its communication portal 'Samsung Display PID' for its public information display (PID) technologies and panel products.
The 'one stop shop' PID website provides easy-to-access detailed information on all of Samsung Display's PID panels for video walls, indoor and outdoor signage, interactive whiteboards, stretched (32:9) displays, and transparent commercial displays.
The site also provides customized information for various locations where Samsung Display panels have been supplied – such as educational institutions, control rooms, hotels, retailers, bus shelters, subway stations and airports.
The new Samsung Display PID website is focused on enabling a clear understanding of the many benefits and operating alternatives for PID panels in any application, while also providing sales contact information through which PID customers can get further support.
To help site visitors better understand the many technological advantages of Samsung PID panels, Samsung Display has inserted a special Learning Center menu on the website's homepage.
Website visitors can review the latest industry information about PID panels including reports, publications, case studies, blogs and news of upcoming PID exhibitions around the globe.
According to market research firm IHS Markit, annual revenues for public displays is expected to grow from USD $5.8 billion in 2016 to $12.7 billion in 2020, which amounts to a 22% annual growth rate, says Samsung.
Leave a Reply