Panasonic Hometeam Keeps Families in Touch
|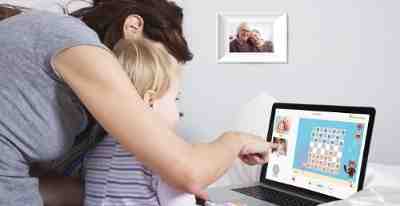 Panasonic Hometeam
Panasonic announced Tuesday a simple way for grandparents to maintain and build ever more meaningful relationships with their grandchildren, even when they're far apart.
The new HomeTeam service blends interactive books and games with video calling to create a fun and friendly environment designed to help start real conversations.
The service is available on web browsers for use on personal computers and as a tablet app from the Apple App Store and Google Play store.
According to Panasonic, HomeTeam brings grandparents and grandchildren closer together, helping to reduce a gap that may exist due to geographical distance or cultural differences.
Phone calls with young children, often filled with yes and no answers, lack the depth and duration needed to build strong relationships and can leave individuals searching for something to talk about.
Panasonic built HomeTeam from the ground up to address these and other unique challenges facing today's families striving to build regular and meaningful contact, says the company.
The HomeTeam experience is delivered on iOS and Android tablets, as well as computers. The service delivers rich content to people, starting with popular children's books, plus fun, multiplayer games.
Panasonic collaborated with leading content providers in the industry, including Houghton Mifflin Harcourt Publishing Company, in addition to educational game development partners to gather quality content that is entertaining and familiar for both grandparents and their grandchildren.
At launch, HomeTeam will offer more than 600 books and will have licensed more than 2,500 in total.
New users can sample the HomeTeam experience, including unlimited access to content and all features, free of charge for 30 days. After that, a premium subscription for continued access to unlimited content is available either monthly ($8.99/month) or annually ($89.99/year).
If users choose not to subscribe to the premium content after the 30 day trial, they can still enjoy unlimited access to video chat features without access to content.
Leave a Reply