Orange E-Commerce Site to Sell Mobile Devices
|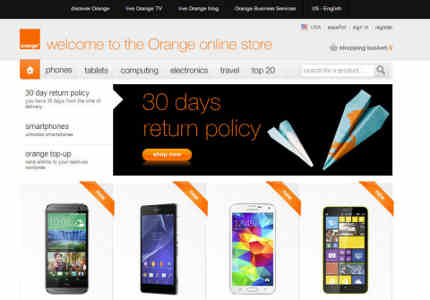 Orange Horizons and starMedia, the world's leading Spanish-language portal, have launched an e-commerce website specifically designed for American consumers.
The new Orange online store, sells high-end, telecom-related devices, such as smartphones and tablets.
Orange is also offering travel solutions for US-based consumers planning a trip to France. The "Orange holiday" offer – a prepaid SIM card that works on French networks – enables American consumers to avoid roaming costs during their stay.
Orange is a global telecommunications operator. Orange Business Services, the B-to-B enterprise division, already has a strong presence in the United States.
The Orange online store offers a product range primarily targeting the premium consumer market, leveraging the portal with a search engine. Shoppers can purchase products via Paypal, bank transfer and credit card, including MasterCard, Visa and Amex.
The Orange online store can be accessed in two languages: English and Spanish.
Leave a Reply