Online Story Sharing Contest: Suno Maa Ki Kahaani
|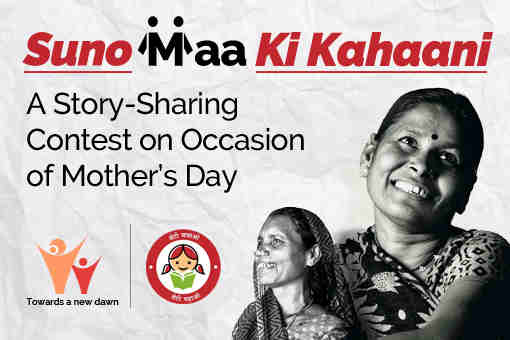 Suno Maa Ki Kahaani
The Ministry of Women and Child Development, Government of India, is organizing a contest "Suno Maa Ki Kahaani" inviting stories about mothers. The contest commenced on 8th May, 2016 for a month, ending 6th June, 2016.
The contest was launched on the occasion of Mother's Day under the government's Beti Bachao Beti Padhao Scheme.
According to the government, the concept of this campaign is to promote the idea of children sharing anecdotes / stories about their mother who has defied gender stereotypes, raised her voice against gender discrimination and championed the cause of gender equality and empowerment.
[ Also Read: How India Abuses Children's Right to Education ]
The objective of the contest is to engage with larger audience through sharing of stories about mothers, thereby encouraging inter-generational dialogue, sensitizing men and boys, being a role model for an empowered daughter.
Some of the suggested themes are gender equality and empowerment, gender discrimination, sexual harassment, domestic violence, social evils like dowry and early marriage, and so on.
You can submit your story with a 60-second video or a write-up of up to 200 words. Here are the submission guidelines.
Photo / Video courtesy: Ministry of Women & Child Development
Leave a Reply