Nike+ Fuel Lab to Leverage the Digital Landscape
|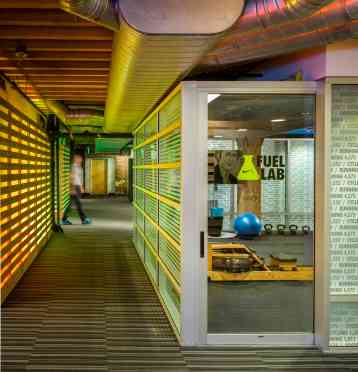 Nike+ ecosystem expands today with the launch of Nike+ Fuel Lab in San Francisco. The Nike+ Fuel Lab opening is a step for the company toward the evolving digital landscape for athletes worldwide.
The Lab builds on the work done through the 2013 Nike+ Accelerator program and continues to drive the power of Nike's digital services for athletes by establishing NikeFuel as the universal way to measure and motivate for any kind of movement.
New NikeFuel partnerships, built through the Nike+ Fuel Lab, will bring tremendous added value to the Nike+ community, currently at 28 million people worldwide and growing, says the company.
"The demand for simpler data-powered experiences is soaring, and all-day sensing is more available on mobile and wearable devices than ever before. Nike is committed to broadening the use of NikeFuel through collaborations with industry leaders to create smarter products and services," said Stefan Olander, Nike's VP of Digital Sport.
[ Also Read: Glass Action: How Google Glass Helps Practice of Law ]
Through the Nike+ Fuel Lab, Nike aims to expand its NikeFuel platform with leading companies including MyFitnessPal, RunKeeper and Strava.
By integrating NikeFuel into these companies' products, over 100 million potential new athletes will be able to use NikeFuel to measure, motivate and improve, believes Nike.
Nike's activities includes working with Apple to develop products since 2006, when the two companies introduced Nike+ Running. Nike has since created Apps for iOS including Nike+ FuelBand, Nike+ Training Club and Nike+ Move which launched in Fall 2013.
[ Also Read: GPS Sport Watch to Monitor Your Heart Rate ]
NikeFuel remains at the heart of the Nike+ ecosystem, and is a single, universal way to measure all kinds of activities—from a morning workout to a night on the dance floor.
Uniquely designed to measure whole-body movement no matter age, weight or gender, NikeFuel tracks a user's active life.
[ Click here to read more Sports stories ]
Nike continually analyzes NikeFuel data to fine-tune the NikeFuel algorithm to deliver an even more accurate measurement of a wearer's all-day movement. Users can see the results of their "Year in NikeFuel" here.
NIKE, Inc. (NYSE:NKE) (based near Beaverton, Ore.) is the world's leading designer, marketer and distributor of athletic footwear, apparel, equipment and accessories for an array of sports and fitness activities.
Leave a Reply