New Task Force Report Addresses Digital Economy
|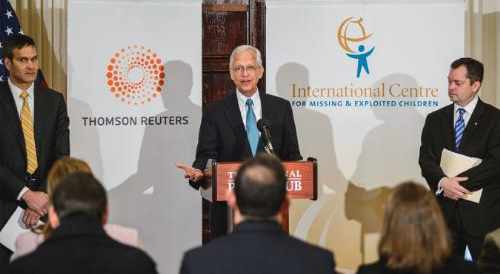 The Digital Economy Task Force (DETF) – sponsored by Thomson Reuters and the International Centre for Missing & Exploited Children (ICMEC) – released its report on the emerging digital economy.
It includes recommendations for policy makers, financial institutions, law enforcement and others to encourage its growth while preventing the sexual exploitation of children and other criminal activity.
The DETF, co-chaired by Ernie Allen, president/CEO of ICMEC, and Steve Rubley, managing director of the Government Segment of Thomson Reuters, offers a regulatory framework that fosters the growth of the digital economy.
It covers digital currencies and alternate payment systems, while addressing anonymizing technology and the growth of "deep web" marketplaces that allow illegal commerce, including money laundering, narcotics, weapons, stolen goods, human trafficking, sexual exploitation of children, and more.
The DETF aims to educate the public and work collaboratively across stakeholder groups, including government agencies, law enforcement, corporations, academia, public and non-profit agencies, as well as key industry players.
The organizations selected for their experience and expertise, include:
Bill and Melinda Gates Foundation
Bitcoin Foundation
The Brookings Institution
Mercatus Center at George Mason University
The Tor Project, Inc.
United States Secret Service
The DETF launched in August 2013 and developed working groups to address the sweeping impact of these technologies from fostering financial inclusion to combatting illicit activities.
The focus areas for these groups included safeguarding human rights, regulation, inter-agency coordination and law enforcement.
Allen, Rubley and DETF members unveiled the report at a special event. It was announced Wednesday, March 5.
Leave a Reply