Lust for Life Condoms Campaign Goes Online – #LustforLife
|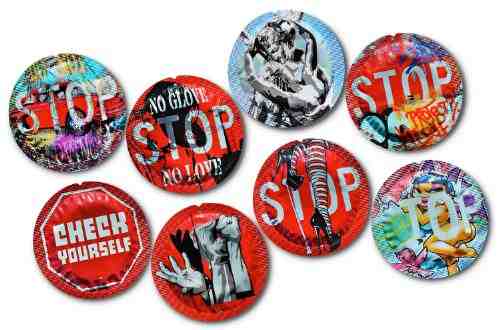 Condoms brand ONE has announced the launch of an HIV prevention campaign that features a coalition of visual artists, musicians, celebrities and public health agencies.
#LustforLife aims to help stop the spread of HIV/AIDS in America's urban communities, where 70% of the 50,000 new HIV infections in the U.S. occur each year.
The campaign brought together 22 graffiti and street artists who created their works of art on full-sized STOP signs with designs promoting safer sex.
Also Read:
[ Porn Star Sunny Leone Sizzles in Manforce Condoms TV Ad ]
[ How to Enjoy Free Sex Without Using Condoms ]
The collection was curated by Billi Kid, a contemporary artist, designer, and curator. The campaign kicks off with a launch event for an exhibit featuring the works of art at the Urban Outfitters store in New York City's Herald Square on Friday, February 6 at 6:00 p.m.
ONE is producing #LustforLife condom wrappers featuring 8 of the STOP sign designs and will distribute millions of them through public health organizations nationwide.
The company also will introduce retail 12-packs and other products showcasing the designs and will donate a portion of sales to urban outreach programs.
Launched in 2004, the ONE brand aims to increase condom usage and facilitate conversations about sexual health.
Leave a Reply