Logitech Harmony Allows Speech-to-Text Search
|
Today digital products company Logitech announced that you can now use your Logitech Harmony Ultimate or Logitech Harmony Smart Control to control additional devices, including your Sonos wireless HiFi System speakers.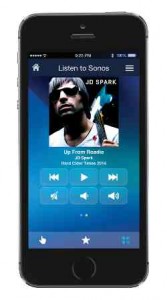 In addition to controlling playback and volume directly from your remote, you can access your Sonos Favorites playlists from the color touch-screen of the Harmony Ultimate or through your tablet or smartphone using the free Harmony App.
With the speech-to-text capabilities available through the free Harmony App, searching for content on your streaming device, including the newly compatible Amazon Fire TV, is even faster, suggests the company.
[ Also Read: Amazon Brings Fire TV for Your Living Room ]
Through the Harmony App, you can now bring up the search field in the streaming media app, and use the mobile device's keyboard to enter text or dictate the desired search terms.
The voice recognition is enabled by Siri voice recognition software or Android Speech Recognition, depending on your operating system.
This software update also enhances the Harmony remote setup process for any products that come with the Harmony Hub. During setup, Harmony now automatically detects your Philips Hue lights, Roku, Sonos speakers and other devices on your network, making configuration easier.
The free software update is expected to be available today, June 9.
Leave a Reply