LeTV Android App Adds Touch to Mobile Entertainment
|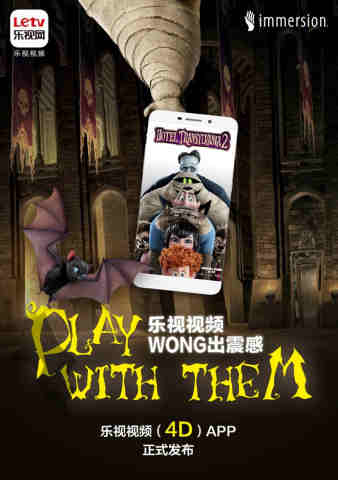 Immersion Corporation, a leading developer and licensor of touch feedback technology, announced Friday with LeTV that the two companies have launched a new category in the LeTV App for entertainment content with a tactile experience.
"Spectre," featuring Daniel Craig as James Bond, "Hotel Transylvania 2" and "The Expendables 3" premiered as the first movie trailers available with tactile effects in the LeTV App.
This launch follows the announcement of an agreement between the two companies to enhance the LeTV App with Immersion's technology, TouchSense Engage, as the first video app in China to support haptics.
[ Bond Film Spectre Features Day of the Dead ]
Specifically developed for mobile entertainment, advertising and games, Immersion's TouchSense Engage enables content creators to add touch effects to their content.
The technology precisely controls the actuator in smartphones and other devices at a certain frequency, duration and speed, making it possible to create an unlimited number of tactile effects.
This is synced with the video and audio components, creating a multi-sensory experience with sight, sound and feel.
[ Click here for Digital Marketing Services ]
Content creators can use TouchSense Engage to leverage tactile effects as a part of their storytelling and help appeal to viewers on the small screen mobile device.
Tactile videos powered with TouchSense Engage can be viewed using the LeTV App on Android smartphones, including the LeTV smart phone, Xiaomi, Huawei Honor 6, and Meizu MX4.
"Immersive entertainment content for the movie industry is not a new concept," said ChenSu, vice president of LeVP. "For mobile, however, this is a very innovative approach. With short-form video content viewing rapidly growing on mobile devices, enabling consumers to experience a trailer enhanced with tactile effects is great way to market a movie."
[ Movie Mate – For Your Film Promotion ]
"LeTV is expanding its entire ecosystem," the chief editor of LeTV, YuChao added. "Videos with tactile effects provides an immersive experience with audio, video and touch simultaneously, creating a new way to market the entertainment value of a movie. We believe that haptics are a competitive advantage for LeTV and the LeTV App."
LeTV, China's long video content provider, was founded in 2004. Founded in 1993, Immersion (NASDAQ:IMMR) is a leading provider of haptic technology.
Leave a Reply