Launch of UN Data Innovation Lab Workshop Series
|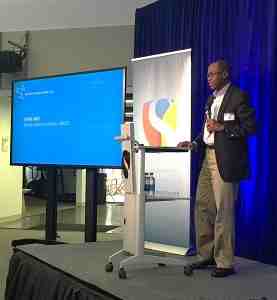 UNICEF Deputy Executive Director Omar Abdi addressing the San Francisco workshop
On behalf of the broader UN community, WFP and UNICEF facilitated the first Data Innovation Lab workshop at technology think tank Singularity University to harness the power of digital growth and the data revolution for sustainable development.
The data revolution is leading to an exponential increase in the volume and types of data available globally. For the UN, relevant, reliable and up-to-date data are critical to assess the effectiveness of programmes and to better understand the challenges facing the communities in which UNICEF and WFP and other UN agencies work.
The workshop series connects the UN family with private sector leaders, experts and entrepreneurs in the field of technology, data and innovation to explore how new data opportunities can best be utilised for sustainable development.
[ "मेरा देश बदल रहा है…आगे बढ़ रहा है" ]
"New forms of data present both challenges and valuable opportunities for the work of UN agencies. Access to more detailed data can enable us to strengthen our programme work, better inform policy decisions and remain institutionally agile to keep up with technological advances," said UNICEF deputy executive director, Omar Abdi, who spoke at the event.
"The Data Innovation Lab addresses a need for proper skills and tools to use these vast quantities of new data and ensure that the development community is not missing out on vital opportunities for strengthened evidence-based decision making."
[ UNICEF Launches New Portal to Protect Children Online ]
Manoj Juneja, assistant executive director and CFO of WFP, also noted that, "Data innovation presents an important lever to better inform our decision making and accelerate our efforts towards a world without poverty. This area of work is also an opportunity for increased collaboration with the private sector and governments."
Building the UN community's capacity to utilise and understand existing and emerging forms of data is crucial for ensuring that humanitarian and development actors can continue to best serve the needs of vulnerable communities.
Through the Data Innovation Lab workshops, WFP and UNICEF stand at the forefront of an essential movement that integrates new technologies and ways of using data into programme work.
In 2015 the United Nations Chief Executives Board approved a portfolio of initiatives to mobilise the Data Revolution for sustainable development.
As one of these initiatives, the Data Innovation Lab allows UN agencies to capture the momentum of the digital age by strengthening data exchange capabilities, supporting knowledge-sharing and identifying new opportunities across the system.
Photo courtesy: UNICEF
Leave a Reply