Indian Journalists Invited for Training Program on Digital Journalism
|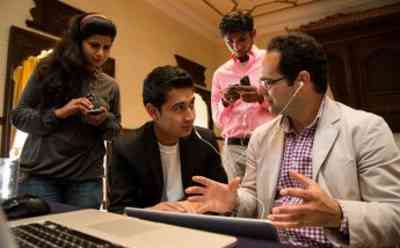 In the spring of 2016 the International Center for Journalists (ICFJ), with the support of the U.S. Consulate Kolkata and the U.S. Department of State, will partner with universities in Kolkata and Patna to train local journalists and journalism students in Eastern India during workshops that coincide with World Press Freedom Day.
Mid-career journalists working at either English or vernacular-language media organizations in Patna (Bihar) and Kolkata (West Bengal) and journalism students are invited to apply for the two-day training programs in each city that will cover topics including journalism standards, ethics, and citizen journalism.
[ Also Read: How India Abuses Children's Right to Education ]
The program will bring together a panel of U.S. experts to train a total of 120 journalists on how to harness the power of digital tools in order to improve public service reporting.
Participants will also be asked to highlight a community issue they would like to cover more effectively. They will use these ideas as a template during the sessions and will be encouraged to continue reporting on the story after the training session ends.
[ Can Your Education Get You the Right Job? ]
Journalists will work with trainers during the workshops to create reporting projects that will incorporate both digital and citizen journalism practices. Participants will be put in touch with each other and the U.S. trainers via email and social media platforms to receive feedback on completing their individual projects.
Applicants must be residents of Bengal or Bihar in order to attend each workshop in Kolkata or Patna. Applicants should demonstrate experience in public interest reporting. Journalists, editors or producers employed by print, broadcast or online media can apply. Freelance journalists with a history of publication may also apply.
[ Visit and Support RMN Foundation Free Schools for Children ]
The program seeks to help develop sustainable ties between U.S. and Indian journalists and to strengthen public interest reporting in India.
Workshop in Patna: May 2 – May 3, 2016
Strategy Session with university in Patna: May 4, 2016
Workshop in Kolkata: May 6 – May 7, 2016
Strategy Session with university in Kolkata: May 8, 2016
According to ICFJ, only applications from mid-career journalists will be reviewed. Deadline extended until April 10, 2016. Click here to apply now.
In the picture above: ICFJ trainer Pierre Kattar works with participants from ICFJ's 2015 Roadblocks Along the New Silk Road program for South Asian journalists. Photo credit: ICFJ, Frank Folwell
Leave a Reply