IBM Studio to Create Data-Driven Digital Experiences
|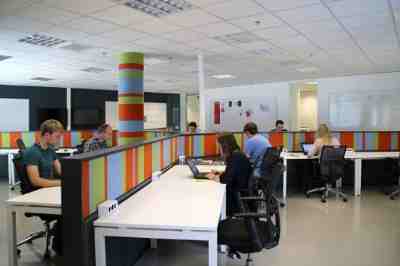 IBM (NYSE: IBM) announced Tuesday the opening of IBM Studio Groningen, where IBM design, digital and industry experts will work with clients to help them engage with their customers using big data, mobile, cloud, and social innovations.
Located in the IBM Services Center in Groningen, the studio will be the hub of IBM Design in the Netherlands and will host local teams from IBM Interactive Experience, a digital agency.
It will be a space for clients in industries such as automotive, financial services, and retail to work side-by-side with IBM consultants and experience design experts to analyze business challenges and integrate next-generation technologies to create more personalized digital experiences.
IBM Studio Groningen represents the latest investment in IBM's worldwide design capability. The company has created spaces where product development, experience design, consulting, brand experience, and marketing co-locate to maximize collaboration and value for IBM clients.
IBM Studio Groningen joins more than 25 IBM Studios in locations including Atlanta, Austin, Bangalore, Beijing, Boston, Chicago, Dallas, Ehningen, Hursley, London, Madrid, Melbourne, Mexico City, New York, Paris, Sao Paolo, Shanghai, Tokyo, and Toronto, with more IBM Studios set to open this year.
In the picture above: Designers and consultants working at IBM's new studio in Groningen, the Netherlands
Leave a Reply