IBM Opens Digital Sales Center in Cairo
|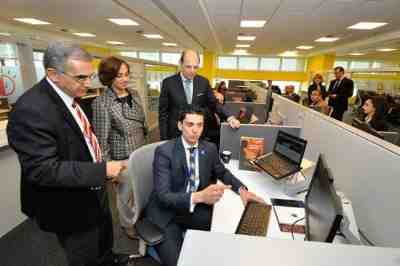 IBM (NYSE: IBM) launched Wednesday the IBM Middle East and Africa Digital Sales Center in Cairo.
The center, which represents a $3 million investment by IBM, is part of a broader three-year agreement with the Egyptian government in which IBM will create jobs and work with clients to transform using cloud, Big Data and analytics, mobile and social technologies.
This is the sixth IBM facility in Egypt. It is part of a collaboration agreement between IBM and the Egyptian Information Technology Industry Development Agency (ITIDA).
In addition to new roles at the Digital Sales Center, IBM plans to hire more than 800 people across its network of delivery centers in the country over the next three years, serving clients around the globe.
IBM's new center in Cairo is the latest in a series of the company's investments across the African continent. The new center is designed to transform the way IBM digitally engages with clients and business partners across 70 countries in the region.
A specialized IT sales force will provide services to IBM clients in Arabic, English, French and Portuguese, using IBM technologies.
IBM has been present in Egypt since 1954 and serving clients across Africa since the 1920s. The company has expanded its presence and investment in recent years and now has a presence in 24 African countries. In 2013, IBM announced its first Research laboratory in Africa, which was its twelfth worldwide.
Leave a Reply