IBM Launches Cloud Data Centers for Government Workloads
|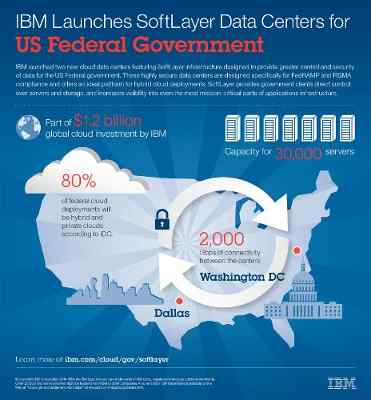 Tech company IBM (NYSE: IBM) has announced the availability of new IBM Cloud Services data centers.
These are designed for the enterprise, providing SoftLayer cloud infrastructure-as-a-service built to meet US Federal Risk and Authorization Management Program (FedRAMP) and Federal Information Security Management Act (FISMA) requirements.
Through the new data centers and development programs, IBM is also opening the market for the SoftLayer ecosystem, enabling business partners to deliver over 100 applications and services such as security, desktop virtualization and geospatial services directly to government clients.
IBM is providing government agencies a platform for creating hybrid and private cloud environments that integrate on-premise and cloud-based workloads through the new data centers.
Hybrid clouds provide agencies more security, control and opportunity to continue leveraging existing private cloud investments.
The first of the new data centers will open in Dallas, Texas, this month, with a companion center opening in Ashburn, Virginia, later this year.
The highly secure SoftLayer data centers will have initial capacity for 30,000 servers and share an isolated, robust private network with 2,000 gigabytes per second of connectivity.
IBM Cloud Services and its SoftLayer infrastructure-as-a-service are designed for the enterprise, supporting:
Data: enabling clients to mine their data as their most valuable resource while protecting its privacy and security
Open Integration: rapidly combining existing and new services and data to drive new innovations for organizations
Control: helping clients decide, manage and secure where their data and apps reside
Data is an abundant resource across government and agencies are challenged with using it to gain insights and transform with speed. Acting in the business moment requires the ability to harness all available data and apply the full power of analytics on a massive scale, privately and securely.
IBM is also building a dedicated Security Operations Center for the new data centers to provide government clients with added security, availability and incident response capabilities.
Through its customizable solutions, agencies can achieve optimized application performance and responsiveness via SoftLayer, and faster application development, deployment and delivery, says the company.
Leave a Reply