Hyundai Goes Digital for Sonata with #BecauseFutbol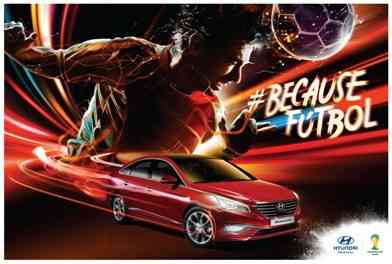 As the world suits up for the largest sporting event this year, Hyundai kicks off the 2014 FIFA World Cup with a complete 360˚ integrated marketing platform that celebrates fan passion.
Two all-new in-game 30-second spots featuring the redesigned 2015 Sonata will join digital, social, CRM, and retail executions engaging and inspiring audiences.
The spots will air on ESPN and Univision as part of Hyundai's exclusive whistle-to-whistle automotive advertising sponsorship of the World Cup series broadcasts on the networks.
2014 marks Hyundai's fourth consecutive year since 2002 as the official vehicle sponsor of the World Cup.
---
Related Articles
Released: EA SPORTS 2014 FIFA World Cup Brazil
Budweiser's Rise As One for FIFA World Cup
FIFA World Cup Anthem: "Dar um Jeito (We Will Find A Way)"
FIFA World Cup: Coca-Cola Launches "The World's Cup"
Nike "Winner Stays" Film in the Risk Everything Football Campaign
Coca-Cola vs. Pepsi: Cola Wars on the Football Field
Coca-Cola Releases 'The World is Ours' by Aloe Blacc
Budweiser and FOX to Release Football Documentary Films
Football Fans to Get Field Experience on Their Mobiles
DISH Network Prepares for Summer of Soccer
Free-to-Play PC Game EA SPORTS FIFA World in Open Beta
Studio Rio Presents: The Brazil Connection
McDonald's Helps Youth Visit Brazil for FIFA World Cup
Bangalore Students Selected for FIFA Football Event in Brazil
Will Germany Win the 2014 FIFA World Cup?
---
The new spots highlight the emotional love of the game and aim to inspire fans with two simple words – "#BecauseFutbol." Creative was developed by Hyundai's agency of record, Innocean USA.
"Boom," a 30-second spot, celebrates fan passion as a powerful force shedding light on the world-wide phenomenon of baby booms. The ad illustrates how a single win can literally create a generation – "#BecauseFutbol."
"Avoidance," a 30-second spot, follows a man on his emotional journey home to watch a game he's recorded. He goes to great lengths to avoid spoilers throughout the day, only to be foiled by an unexpected source. Viewers sympathize with the man – "#BecauseFutbol."
"This year's World Cup campaign shows what being a 'true' fan really means; and how for 30 days people come together, lives change, emotions rise and unexpected moments happen," said Steve Shannon, vice president, Marketing, Hyundai Motor America.
"#BecauseFutbol" extends beyond the big screen as Hyundai invites fans to share their passion for the game and connect with other fans around the globe digitally at BecauseFutbol.com.
Built on the Tumblr platform, BecauseFutbol.com connects, inspires and engages fans with unique content and tools developed by dozens of leading Tumblr artists and content creators.
Elevating the artistic expression and fan passion shared on BecauseFutbol.com, customized content created by the Tumblr artists will be featured on the Times Square Billboard in New York during the days leading up to the World Cup.