How to Turn Your Android Phone into a Game Controller
|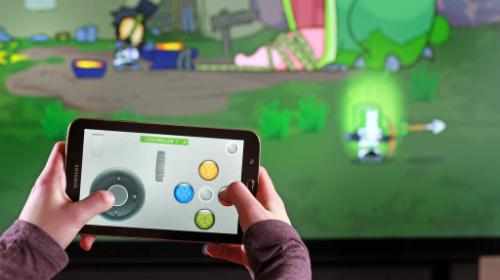 GestureWorks Gameplay for Windows 8 lets gamers use and build their own Virtual Controllers for touch, which are overlaid on top of existing PC games.
In version 2, gamers can extend this experience and use Android phones and tablets as game controllers to interact with PC games.
Version 2 allows gamers to use Gameplay's drag-and-drop interface to build customized Android remote game controllers for PC games.
Gamers can place joysticks, D-pads, switches, scroll wheels, buttons and a trackpad anywhere on the screen, change the size, opacity, and add colors and labels.
Unlike traditional game controllers, Virtual Controllers can be fully customized and they can even be shared with friends.
Up to four Android devices can be connected, letting users play co-op and multiplayer games. Gameplay Android controllers can be set to provide audio and vibration feedback. Accelerometer data from Android controllers can also be used in Gameplay.
Gamers who purchase GestureWorks Gameplay version 1 will get a free upgrade to version 2 when it is released this summer. Current GestureWorks users have access to over 170 Virtual Controllers for more than 100 popular PC games.
"Gameplay 2 extends our model of giving gamers more choices in how they'd like to play," says Jim Spadaccini, CEO of Ideum, makers of GestureWorks Gameplay. "We've made turning your Android phone into a customized game controller easy and it makes playing with friends really fun."
Along with support for Android devices, GestureWorks Gameplay 2 will also include a number of new features. Image capturing for social sharing, a gamepad emulation, and more sophisticated authoring tools are also in the works, says the company.
Powered by the GestureWorks gesture-processing engine, Gameplay provides support for over 200 gestures. Beyond overlay touch controllers, gamers can set full-screen (global) multitouch gestures that provide additional controls to PC games.
Ideum is a privately held software, hardware, and design company based in Corrales, New Mexico.
The company developed GestureWorks, a multitouch and motion tracking software environment. GestureWorks Gameplay uses this advanced gesture analysis and processing tool.
Leave a Reply