How to Draw Disney Characters in Disney Art Academy
|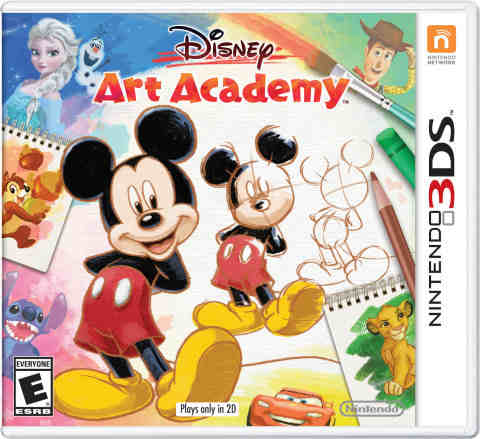 In the Disney Art Academy game, launching exclusively for the Nintendo 3DS family of systems, you can use tools to learn to draw more than 80 Disney and Pixar characters in 2D.
By setting your own pace through multiple easy-to-follow lessons, characters like Mickey Mouse, Nemo from Disney Pixar Finding Nemo, Elsa from Disney Frozen, Buzz Lightyear from Disney Pixar Toy Story and Simba from Disney The Lion King come to life on your Nintendo 3DS screen.
"Even if you don't consider yourself an artist, you will be surprised by what you can create in Disney Art Academy," said Scott Moffitt, Nintendo of America's executive VP of Sales & Marketing. "The game uses fun lessons to teach drawing skills to artists of all ages and skill levels."
In Disney Art Academy, Disney and Pixar characters can be sketched or painted in many different ways. Using nine art tools like pastels, paintbrushes or markers, you can discover your inner artist by participating in lessons inspired by Disney art and animation.
Each lesson guides you through a step-by-step progression to draw a single character. What starts as a series of lines and shapes will gradually evolve into a familiar character using your new art skills! If you ever want to take a break, lessons can easily be saved to continue from the same spot at a later time.
You can even add some extra flair with the Magic Brush, a new addition to the Art Academy series. With the Magic Brush, magical additions like stars, bubbles, and glitter can be added to your drawings – all easily accessed by using the touch screen on Nintendo 3DS.
Disney Art Academy launches on May 13, and can be purchased in stores, in Nintendo eShop on Nintendo 3DS and at Nintendo.com at a suggested retail price of $29.99.
Photo courtesy: Nintendo
Leave a Reply