How Much Time Do You Spend on Your Smartphone?
|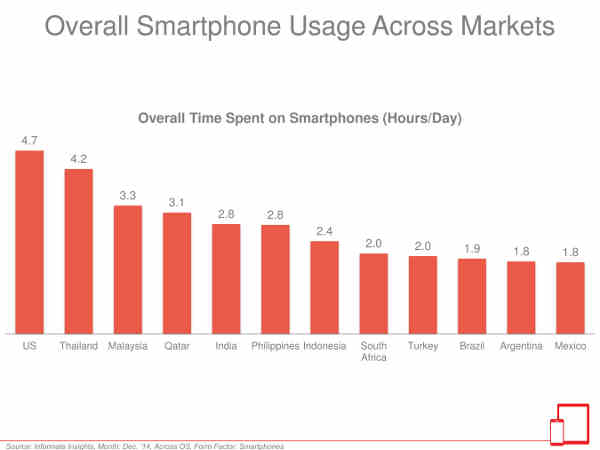 Americans are now spending an average of 4.7 hours a day on their smartphones – more than their counterparts in at least 11 countries around the world – according to a new monthly report from Informate Mobile Intelligence that tracks and measures consumer use of smartphones in 12 countries.
"Smartphones are becoming the primary screen for consumers here in the U.S. and around the world," said Informate CEO Will Hodgman.
The International Smartphone Mobility Report provides marketers, telecoms, OEMs, and developers with a new look at how consumers are using their smartphones in growing global markets.
The markets include the U.S., India, Indonesia, Malaysia, the Philippines, South Africa, Brazil, Mexico, Argentina, Thailand, Turkey and Qatar.
By the end of 2015, the report will expand to more than 25 developed and developing countries including the United Kingdom, France, Germany, China, Russia, Australia, South Korea and Japan.
Main Findings:
Overall Engagement: The report reveals that Americans are spending the most time per day on their smartphones at 4.7 hours. At the other end of the spectrum, Brazil, Argentina and Mexico are spending the least amount of time coming in at under two hours each.
Data Consumption: The report also reveals the U.S. as having the highest average rate of monthly data consumption at 20 gigabytes. Indonesia's average consumption measured the lowest at three gigabytes per month. The report also found that Indonesia had the highest share of cellular data traffic at 59 percent (and lowest WiFi at 41 percent) and that Mexico and Brazil had the lowest cellular data traffic at five percent (95 percent WiFi).
Apps Usage: Google properties represented at least six of the top ten apps accessed across all markets. Facebook properties including FB Messenger, WhatsApp and Instagram accounted for the rest. In regard to entertainment apps, video and media player genres had a higher reach as compared to radio and TV. Video apps usage was highest in Mexico. Music usage was highest in India. Radio and TV apps were most popular in the U.S.
Informate has assembled consumer panels in 12 countries via the distribution of a free utility app called Data Diary.
Founded in 2008, Informate is a privately held mobile measurement firm. Headquartered in Seattle, Wash., it has offices in Singapore and Mumbai.
Leave a Reply