How Amazon's New Fire Phone Delivers Weather Information
|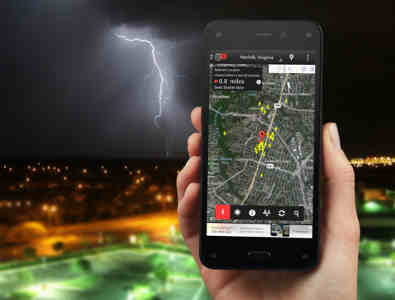 WeatherBug launches its app on Amazon's new Fire phone. Featuring exclusive Spark lightning alerts and pinpoint forecasts for 2.6 million locations worldwide, the app includes all the weather, alerting tools and special features.
The app utilizes Fire's features with an expanded home screen widget that provides vital weather information at-a-glance, supports gesture-based navigation, and includes new 3D effects.
[ Also Read: Amazon Introduces Its First Smartphone – It's Fire ]
WeatherBug for Fire is available for free. For a full list of WeatherBug's features – including exclusive live weather cameras, fun and photo sharing, and Lifestyle Forecasts – you can check out WeatherBug in the Amazon Appstore.
"WeatherBug is consistently among the most downloaded mobile apps because we uniquely deliver more data from our own network, in a beautiful, rich app," says Amena Ali, CMO for Earth Networks, the parent company of WeatherBug.
Leave a Reply