Groupon Presents My New York by Padma Lakshmi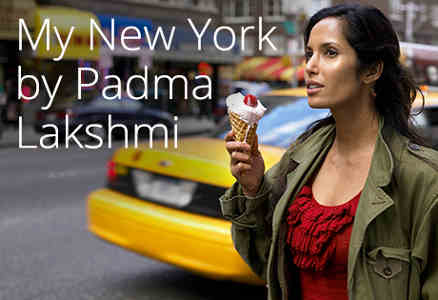 Groupon announced Monday the launch of a deal collection featuring New York experiences handpicked by Padma Lakshmi, "Top Chef" host, author and entrepreneur.
Businesses range from restaurants and museums to spas and vintage clothing stores. The collection, titled "My New York by Padma Lakshmi," will be available for one week on Groupon site.
"My New York collection with Groupon spotlights a few of the unique places that make New York City special to me," said Padma Lakshmi. "Local treasures like these restaurants, shops and experiences are what make experiencing this city truly extraordinary."
Some of Padma's favorite New York spots include:
Devi – Devi is widely known as one of New York City's top Indian dining destinations
Serafina – Located in the pulse of the city's hippest district, Serafina serves up succulent Northern Italian flavors from early morning to late into the night
Children's Museum of the Arts – Children's Museum of the Arts has nurtured the artistic talents of kids for more than 25 years
Edi & the Wolf – Edi & The Wolf pays homage to tradition, inviting guests to experience "Gemütlichkeit," or coziness, featuring Michelin-starred chefs
Gymboree – Gymboree Play & Music has been fostering creativity and confidence in children for more than 30 years
The Jewish Museum – Boasting a collection of 27,000 paintings, sculptures and multimedia exhibits, The Jewish Museum offers a collage of Jewish culture and identity across centuries and continents
Mezzogiorno – Mezzogiorno conjures a favorite Florentine cucina in an art-filled SoHo dining room, spotlighting seasonal ingredients
SPiN New York – By combining an unusual mixture of sport, design and entertainment, SPiN New York has created a unique experience with 17 ping-pong courts, a full bar, restaurant, pro-shop and private VIP room
"We're constantly striving to connect Groupon customers with the absolute best local businesses, and Padma's handpicked collection does just that," said Julie Szudarek, senior vice president, Groupon Local Deals. "These highly curated deals highlight some of the top destinations in the city and promise a decadent New York experience."
Padma is the owner of two companies: Easy Exotic, which includes hard kitchen goods, frozen foods, teas and spice products as well as the Padma Collection, a line of sophisticated tableware and home decor sold at fine retailers across the country.