Digitally Delightful Dating Platform for Loveseekers and Lovekeepers
|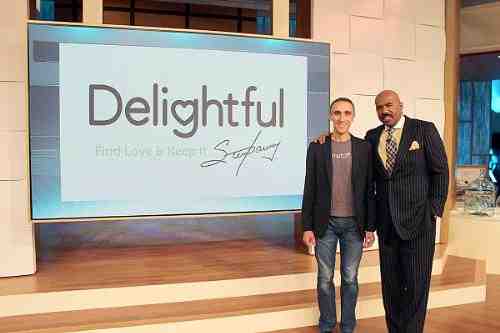 The Match Group and Steve Harvey announced Thursday that they are teaming up in the name of love to provide a dating experience for relationship-minded singles.
The collaborative efforts are led by co-founders Steve Harvey, who will serve as the brand's Chief Love Officer by providing custom dating and relationship advice, and Sam Yagan, CEO of The Match Group.
The new site within The Match Group's dating portfolio is aimed at singles focused on finding and keeping love. With Steve's mass appeal, according to the company, Delightful will be able to target a broad audience of serious-minded, love-seeking singles and is aimed at creating an inclusive community of all races, religions and sexual orientations.
---
Related Stories:
Older Men Younger Women Dating Site – Ageless Hookup
Dating Site for Rich Men and Rich Women: Billionaire Fish
Dating Goes Mobile for Singles to Find Real Partners
---
Steve has been involved in the site's overall design and personality as well as producing unique content hosted on the site. He will continue to be deeply involved as Delightful adds new content and features exclusively for its members, which will be accessible through all desktop and mobile platforms.
"Creating Delightful with Match provides me with a tremendous opportunity to help more men and women find love and authentic romantic commitments," said Steve Harvey. "Everyone knows I love a good stage, and Delightful and Match create just that, my largest stage yet to help love-seekers to be delighted again by the prospect of discovering true love."
Delightful members will have access to a constant stream of new product offerings, customized videos and written articles from Steve Harvey integrated throughout the site.
In addition, each member will be able to create a profile, share his or her story (a personalized essay), search for compatible members, and receive matches that they may like based on their stated preferences.
With the purchase of a subscription, members will be able to communicate with any other site members that they find interesting.
Delightful is an operating business of IAC (Nasdaq: IACI) and is headquartered in Dallas, Texas.
In the picture above: Sam Yagan, CEO of Match Group, and Steve Harvey, onset at the Steve Harvey show in Chicago, where they announced news of their new partnership, an online dating platform Delightful.com.
Leave a Reply