Your Story to Drive Levi's Digital Marketing Campaign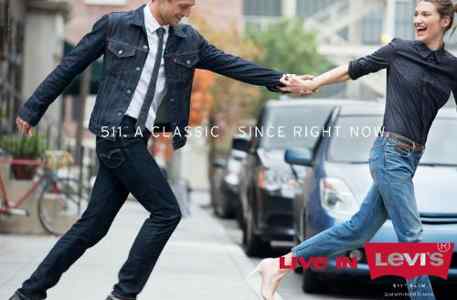 The Levi's brand announced today the launch of its new global brand campaign, "Live in Levi's." It is stated to be the first work developed out of a creative collaboration between FCB – Foote, Cone & Belding, The House Worldwide and the Levi's brand.
Inspired by the stories consumers tell about the things they do in their Levi's, the campaign spans digital and social platforms, TV, cinema and print globally.
It aims to engage and activate consumers through real-life and virtual events, as well as mobile and in-store experiences.
[ Click here for Advanced Digital Marketing Services ]
At the heart of the new campaign is the celebration of real-life "Live in Levi's" moments – from first dates and first-borns to rodeos and road trips and every day in between.
Featuring the new Fall 2014 collection, the campaign highlights the Levi's 511 Slim jean for men and the Levi's Revel jeans for women, in addition to reimagined products such as the 501 jean, western shirt and Trucker jacket.
[ Also Read: Why Brands Can't Ignore the Native Video Advertising Option ]
"'Live in Levi's' is more than a campaign, it's an optimistic new direction that reinvigorates the Levi's brand's soul," said Jennifer Sey, chief marketing officer for the Levi's brand.
At the forefront of the "Live in Levi's" campaign is a digital approach, serving to engage and activate the expansive global community of Levi's fans around their shared experiences, says the company. A social film showcasing the stories of people and products will launch in early August.
[ Also Read: Lincoln Drives Social Media Campaign to Promote New MKC ]
The television and cinema spot, directed by Fredrik Bond, and featuring a track by the raspy-voiced blues rock musician Jamie N. Commons, celebrates individuals who are living and having fun in their Levi's products and will air beginning in late July on cinema screens worldwide.
The print and outdoor campaign was shot by Jason Nocito. Featured taglines such as "For everybody who's not just anybody" and "Look good on your way to what's next" are at the center of the campaign. In August, fashion, music, sports and culture print outlets will show the new Fall 2014 collection.
[ Also Read: How David Lang Views the Content Business of Mindshare Entertainment ]
In addition, outdoor creative will begin running in late July in key markets including: New York, San Francisco, London, Paris, Berlin, Shanghai, Hong Kong, Mexico City, Mumbai and Tokyo along with other key cities globally.
FCB's worldwide network spans 150 offices in 90 countries. It is part of the Interpublic Group of Companies (NYSE: IPG). The House Worldwide launched in March 2013 is also a global communications network.