Web Designer Aims to Destroy "World's Most Hated Internet Browser"
|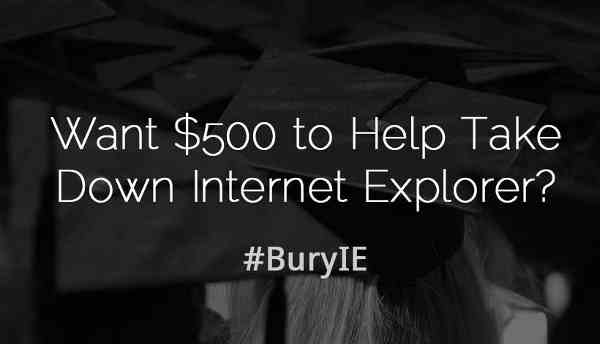 Web Design and SEO firm Navolutions is offering $500 scholarship to web users who could destroy Internet Explorer, which the company says is the world's most hated internet browser.
According to Navolutions, Internet Explorer doesn't have many supporters in the web development community. Pleasanton-based Navolutions is offering the scholarship to a student who does their part to wipe out the browser, once and for all.
"If someone asks me for help with their computer and I see they're using Internet Explorer, the first thing I do is install a better browser," says web designer Joe Goldstein. "Not only does it speed up browser performance and patch a few security holes, but it also means there will be one less person using Internet Explorer, which is good for everyone." – informs Navolutions.
[ Also Read: Now Yahoo Is Default Search Engine for Mozilla Firefox ]
Web designers have long voiced their dislike for the aging browser, due in part to the inconsistent ways it handles layouts on web pages.
"If you add a border around a photo on any real browser," says Joe, "it adds that border to the photo's width and pushes everything out, like putting a frame around a painting.
Internet Explorer is the only browser that counts the border towards the width, pushing everything inwards. If you don't expect it, it can destroy your page's layout.
Sure there are ways of fixing it, but those take time and resources, and Internet Explorer has dozens, if not hundreds, of little issues just like that. They add up."
Navolutions isn't the only web designer that wants to take the browser down. In 2012, it says Australian retailer Kogan.com put a 6.8% "tax" on Internet Explorer 7 users, saying "As Internet citizens, we all have a responsibility to make the Internet a better place. By taking these measures, we are doing our bit."
For rules and eligibility, visit the Navolutions scholarship page. Navolutions is a Pleasanton, CA based web design, SEO, and internet marketing firm.
Leave a Reply