Mobile Banking App That Lets You Save Money
|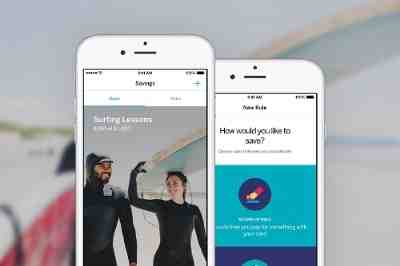 Qapital app uses gamified, automatic savings to allow its customers set aside small amounts of money regularly, so they can have the things they want — without relying on credit.
Customers can create a savings plan that blends seamlessly into their lifestyle. The product enables them to set up "rules" that trigger automatic savings for a specific goal.
Users can direct these savings toward a goal of their choosing, such as a trip to Paris or a security deposit on a new apartment, or set them aside as a rainy-day fund.
[ Citi to Launch Banking App for Apple Watch ]
"We wanted to create the first truly well-designed, transparent, mobile-first banking app," said Qapital CEO and co-founder George Friedman. "People who are seeking a new approach to personal finance can create their own rules for saving that compliments the way they live their life."
Qapital says it has created a banking app that combines design with financial technology. It is powered by Plaid, a San Francisco–based API that aggregates financial-account data, and by Social Money, a financial-processing technology company.
[ Axis Bank's Free Wi-Fi Service… and Health Hazards of Wi-Fi ]
Qapital has received funding from Northzone, a venture capital and investment firm.
"Qapital is the way an everyday banking service should work — all mobile, sleek, and intuitive," says Par-Jorgen Parson, a Northzone partner and Qapital board member. "It will help you track your spending habits, make your money last even as you spend, and still meet targets that let you save up for whatever special thing you want."
Qapital is a new banking service combining social features and gamified automatic savings with traditional banking products. Qapital was founded in Stockholm in 2013 with the aim to build a financial system for millennials.
Leave a Reply