India Launches Special Webpage on Festival of Independence
|
India Launches Special Webpage on Festival of Independence
India's Minister for Information and Broadcasting, M. Venkaiah Naidu, launched Wednesday a special webpage developed by Press Information Bureau on Festival of Independence, 2016.
The webpage that can be accessed from PIB's homepage, pib.nic.in, is designed as a platform to showcase all the events related to the Festival being celebrated throughout the country.
The webpage showcases hundreds of archival photographs, audio and video clips, write-ups and features on leaders and events related to the freedom struggle.
[ आओ मिल कर करें एक नये और समृद्ध भारत का निर्माण ]
The webpage will host live webcast of Prime Minister Narendra Modi's Independence Day Speech from the Red Fort and will also host other speeches delivered by the Prime Minister at events related to these celebrations.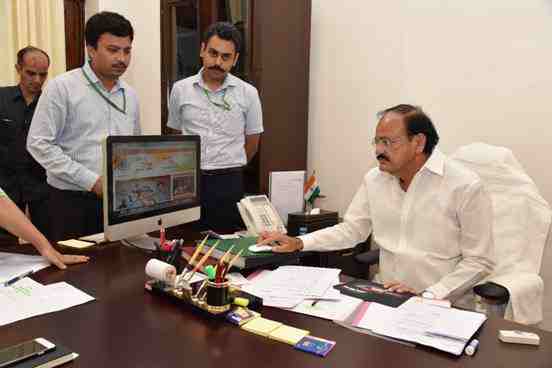 M. Venkaiah Naidu
The social media section of the webpage will show live feeds from Twitter and Facebook. The tweets from the PIB Twitter handle having the hashtags #70YearsOfIndependence and #Aazadi70Saal and Facebook posts on the PIB's homepage will be updated on the webpage in real-time.
[ Request for Space to Open Free Schools for Poor Children ]
According to the government, several organizations have contributed to the rich content being showcased on the webpage.
These include All India Radio, Doordarshan, Photo Division, Films Division, Directorate of Public Relations of Ministry of Defence and Directorate of Advertising and Visual Publicity.
Photo courtesy: Press Information Bureau
Leave a Reply