IBM Smarter Counter Fraud to Tackle Financial Crime
|
IBM (NYSE: IBM) introduced Thursday its new software and services to help organizations use Big Data and Analytics to address the $3.5 trillion (IBM estimates) lost each year to fraud and financial crimes.
Through new business expertise and analytics, organizations can take a holistic approach to address the financial losses caused by fraud while protecting the value of their brands, says IBM.
IBM has launched its "Smarter counter fraud" initiative, drawing on the expertise from more than 500 fraud consulting experts, 290 fraud-related research patents and $24 billion invested in IBM's Big Data and Analytics software and services capabilities since 2005, according to IBM.
The initiative extends IBM's offerings in Big Data and Analytics and Cloud to help public and private organizations prevent, identify and investigate fraudulent activities.
IBM says its announcement comes at a time when a new generation of criminals are using digital channels – such as mobile devices, social networks and cloud platforms – to probe for weaknesses and vulnerabilities.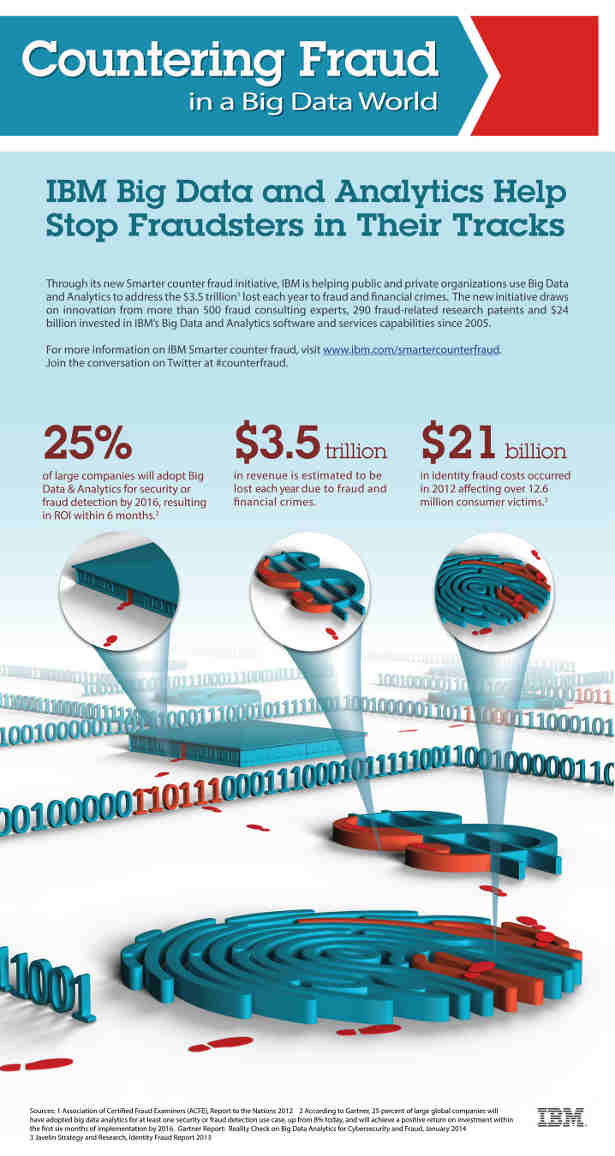 The pace of this threat continues to accelerate – identity fraud impacted more than 12 million individuals in 2012, resulting in theft of nearly $21 billion, and each day the U.S. healthcare industry loses $650 million due to fraudulent claims and payments, says IBM.
To address these complexities, IBM says it is delivering new software that allows organizations to gain better visibility and take a more proactive, holistic approach to countering fraud.
Leave a Reply