IBM Serves Mobile Experience to US Open Tennis Fans
|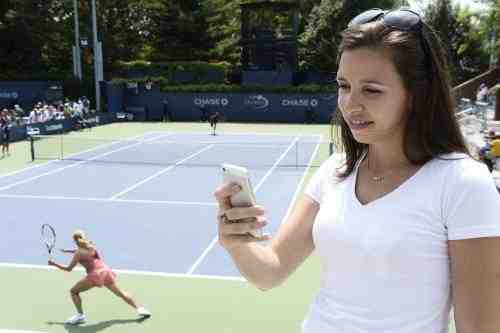 IBM (NYSE: IBM) has unveiled a combination of mobile, analytics, cloud and social technologies designed to serve an interactive experience to fans of the 2014 US Open tennis tournament (August 25 – Sept. 8, 2014).
At this year's US Open, IBM and the United States Tennis Association (USTA) are teaming to keep fans connected, engaged and close to the competition on the courts.
From the first serve to the final point, IBM and the USTA will bring the tournament to life for fans — whether they're sitting in the stands at the USTA Billie Jean King National Tennis Center in New York, watching it on TV in their living rooms or following the action with a mobile device.
[ Also Read: Maria Sharapova Named the Face of Avon Luck Fragrances ]
To help fans keep track of the US Open competition, IBM, in collaboration with the USTA, designed and developed immersive mobile apps for Apple iPhone and iPad as well as Android devices that provide instant access to scores, live video, match analysis and statistics.
The US Open apps, created by IBM Interactive Experience, also present an interactive and informative second-screen experience for fans watching the tournament on TV.
IBM also designed and developed the US Open tournament website with new data sets and enhanced data visualizations – powered by IBM SlamTracker analytics and cloud technologies – to more effectively communicate real time and historical statistical insights.
[ Also Read: See Victoria Azarenka's New Citizen Watch ]
SlamTracker analyzes more than 41 million data points from eight years of Grand Slam tennis match data to identify three performance indicators – dubbed "Keys to the Match" – that can affect a player's ability to succeed.
During a match, SlamTracker visualizes the real-time data, including serve statistics and winning shots, allowing fans to interact with the data to gain deeper insight into match dynamics.
IBM SlamTracker offers new ways for fans to interact with data via a simple interface that delivers an immediate, insightful view of a match in progress, including analysis of ball and player movement during US Open matches.
Analyzing where a ball lands, along with how far a player runs in a given match, offers a new dimension to match analysis, uncovering patterns and insights into player performance and dynamics that ultimately impact the outcome of a match.
The new US Open mobile apps designed and developed by IBM, in collaboration with the USTA, are available for download for Apple iPhone, Apple iPad and Android devices.
Leave a Reply