How to Get Weather Information Using Facebook Messenger Bot
|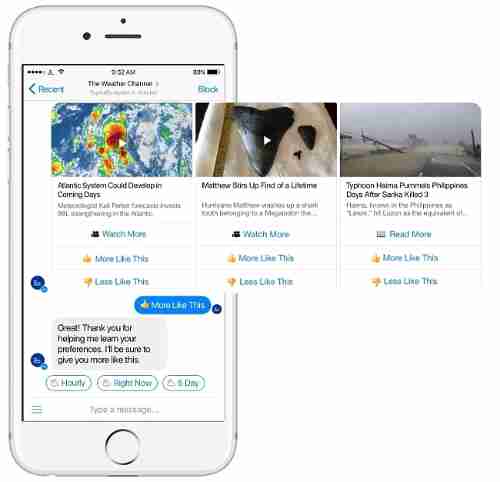 The Weather Company, an IBM Business, announced Tuesday that The Weather Channel has launched a cognitive weather bot for Facebook Messenger – powered by IBM Watson.
Around the world, Messenger is used to stay in touch with friends and family. Now with The Weather Channel bot, it offers a way to view and share personalized weather-related news content, current conditions, forecasts, severe weather notifications, and other relevant weather information.
With the launch of the new bot for Messenger, The Weather Channel brings a new customizable weather experience to users. Leveraging IBM Watson Natural Language Classifier and Alchemy Language APIs, over time the bot will learn a user's preferences to deliver weather-related content specific to their individual interests.
[ Advertising & Marketing: How to Build and Promote Your Brand ]
Using the natural language and machine learning capabilities of IBM Watson – as a person continuously engages with the bot – it will make recommendations, predict, and have conversations to provide a more personalized experience.
Bot features include:
Current conditions and hourly forecasts
Daily forecast and 5-day outlook
Extended forecast information: accessible via a link to the weather.com mobile website
Severe weather alerts: option to view a summary or full description of active alerts in the area (currently available in the U.S., Canada, and Western Europe)
Customizable notifications: select when to receive daily forecast information and news
Breaking weather news: access the latest local weather news
Content recommendations: utilizing news preference feedback, it will learn a person's interests and deliver tailored news content (U.S. only)
Available in 39 languages, Facebook and Messenger users can easily access the bot through The Weather Channel Facebook fan page, as well as the Messenger app.
Leave a Reply