How NFC Technology Gives Jewelry Its Voice
|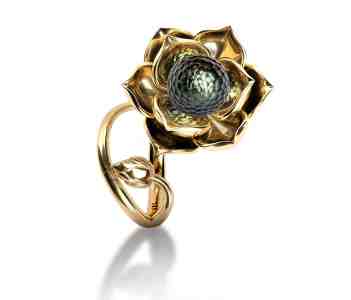 The NFC-empowered Momento Pearl from Galatea: Jewelry by Artist is a cultured pearl to contain near field communication (NFC) technology, allowing a user to create a tailored voice message that can be played when the pearl is tapped against a compatible mobile device.
Taking smart jewelry to a completely new, emotional level, the patent-pending Momento Pearl can also store a variety of digital content including images, messages and videos.
Galatea gives Momento jewelry its voice by implanting an NFC chip deep inside the pearl, says the company. The tiny computer runs without a battery by induction energy.
[ I've Loved Jewelry since the Day I Was Born: Sofia Vergara ]
When the Galatea app is downloaded, the user records a message or uploads an audio file. By tapping the pearl against an NFC-enabled mobile device, the audio is played and other digital material displayed.
From words of love and encouragement to wedding vows and Biblical passages, the emotional connections the Momento Pearl can make are truly endless, suggests the company.
"This is where the future of jewelry begins," says inventor and Galatea founder Chi Huynh.
The complete collection of Momento Pearl jewelry includes 29 pendants, 26 earrings and 8 rings in 14k gold with Tahitian and freshwater pearls.
Manufacturer Suggested Retails begin at $350. The Momento Pearl Collection will be available at Galatea authorized retail jewelers in January 2015, just in time for Valentine's Day.
Leave a Reply