Here's a Top Secret Tablet
|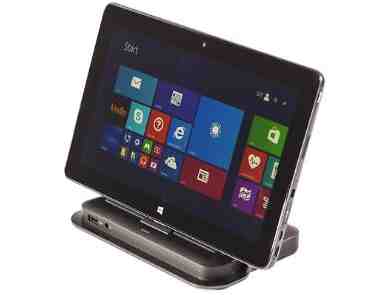 The specialised tablet combines the portability of a tablet and the power of a laptop, along with the ability to secure data up to Top Secret (United Kingdom and Canada) and Secret (NATO) accredited levels. Orders are being taken now with first shipments expected in January 2015.
Tech companies Dell, Microsoft, Intel, and API through its subsidiary SST, today announced the launch of the Secure Venue Tablet, a new mobile computing solution for NATO and its member states.
With Dell Venue 11 Pro Tablet as its foundation, it features an Intel Core i5 Processor (4th generation), and supports the Windows 8.1 Pro operating system.

Click the Banner for Custom Content Services
The tablet is supported by Dell's global ProSupport, which offers direct access to OEM technical support engineers.
The Secure Tablet solution for Top Secret data encryption was developed as part of a multi-company collaboration between Dell, SST, and ViaSat, and in conjunction with technology partners Microsoft and Intel.
The new tablet integrates with a range of peripherals. Adding a physical keyboard and docking station increases functionality and extended battery life making the tablet a laptop or desktop replacement.
Leave a Reply