Government of India Presents Digital India Awards 2016
|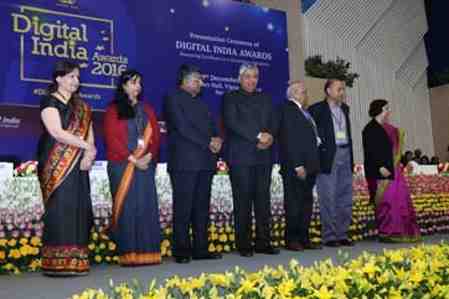 Digital India Awards
Ravi Shankar Prasad, an IT minister, presented ''Digital India Awards'' to the winners on Tuesday.
The Government of India has initiated the "Digital India" program to promote the use of Internet for enhancing efficiency and transparency of government functioning.
The government outfit National Informatics Centre (NIC), under the ambit of India Portal organized the first edition of Digital India Awards.
Digital innovation along with e-governance initiatives of government ministries and departments across India were evaluated under various categories.
[ Unsafe Digital India: Why You Must Not Use Digital Payment Modes ]
Three awards Platinum, Gold and Silver were presented in each category to the winners shortlisted from the nominations received under each category.
The categories included Exemplary Online Service, Open Data Champion, Most Innovative Citizen Engagement, Outstanding Digital Initiative by Local body, Best Mobile App, Web Ratna – Ministry / Department, Web Ratna – State / UT, Web Ratna – District.
According to the government, Digital India Awards will play a major role in recognizing the noteworthy and sustainable initiatives in the realm of e-governance for better delivery of information and services.
Photo courtesy: Digital India Awards
Leave a Reply