Ford Transit Skyliner or a Private Jet for the Road?
|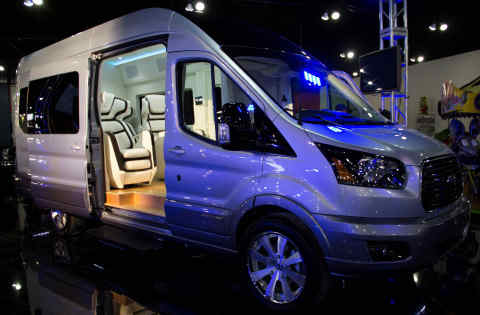 Ford unveils the Transit Skyliner Concept luxury van, illustrating the flexibility and capability of the all-new Transit, which goes on sale this summer.
Positioned as a private jet for the road, it comes with a spacious interior that morphs to support an immersive entertainment experience or a business meeting with the swipe of a smartphone.
According to the automaker, Ford Transit can be transformed to fit the needs of limousines and high-end transportation services as well as commercial fleets, shuttle providers and small-business owners.
Inside, Transit Skyliner can transform into four dramatic modes – theater, business, reception and travel – with movable custom-designed "throne" seats that reposition automatically, controlled by a smartphone or tablet:
Theater: Seats face the 52-inch retractable Stewart movie screen and recline for optimal cinematic viewing
Business: Motorized table unfolds and leather-trimmed seats are gathered around it for face-to-face conversation
Reception: Sliding door opens four feet wide and seats are arranged for easy entertaining while parked at an event
Travel: Passengers can adjust their reclining seats and retractable footrests for ultimate comfort and solitude
The entire interior – from seats to LED mood lighting – is integrated into a Crestron automation system controlled through a smartphone or tablet.
[ Also Read: Zero-Emissions All-Electric Bus Launches in Rio de Janeiro ]
The entertainment system also features Focal Utopia 7.2 surround sound with speakers handmade in France specifically for Transit Skyliner, a KVH DIRECTV satellite for HD TV and a Kaleidescape media server with storage space equivalent to more than 300 Blu-ray movies or more than 1,000 DVDs.
Refreshments can be served from Transit Skyliner's built-in bar. Matching custom luggage complements the vehicle's one-of-a-kind leather-trimmed seats.
"Traveling in Transit Skyliner is an experience unlike any other," says Tim Stoehr, Ford manager for commercial truck marketing.
"You step into the vehicle and are immediately immersed in the custom interior and high-tech audiovisual environment. The next thing you know, you are arriving at your destination."
With 487 cubic feet of cargo volume and an interior height of 81.5 inches in the long wheelbase / extended body high-roof model, Transit can be personalized to create a private jet for the road, says the company.
The 2015 model year Transit will offer two wheelbases, three roof heights and three powertrains to accommodate multiple needs without body modifications.
Transit Skyliner will make its auto show debut at the New York International Auto Show on April 16 at Jacob K. Javits Convention Center.
Leave a Reply