Chief Digital Officer Summit Invites Ken Kragen
|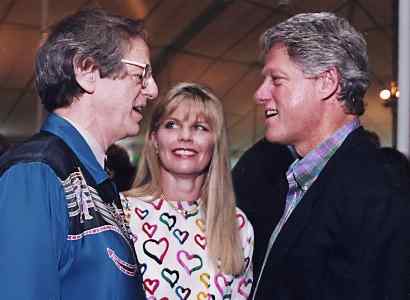 Ken Kragen, from the music and entertainment world, will discuss "Accomplishing the Impossible" as the featured speaker on April 22 at the 2014 Chief Digital Officer Summit in New York City.
Kragen is known for his humanitarian projects "We Are the World" and the Hands Across America campaign. He has received two MTV awards, an American Music Award, and Emmy nominations.
"Chief Digital Officers are often tasked with seemingly overwhelming challenges. Ken's presentations show participants how to accomplish the impossible," said CDO Summit curator David Mathison.
The 2014 Chief Digital Officer Summit will be held on April 22–23, 2014, at Time Warner's Conference Center in New York, N.Y.
In addition to the panels, the CDO Summit also includes workshops on Creativity, Crowdsourcing, Innovation, Micro-targeting and Conversions, Outsourcing, Second Screen, Social Media, Talent Acquisition and Management, and more.
In the picture above: Ken Kragen and President Bill Clinton.
Leave a Reply