Barcelona Goes Contactless at 8,000 Locations in the City
|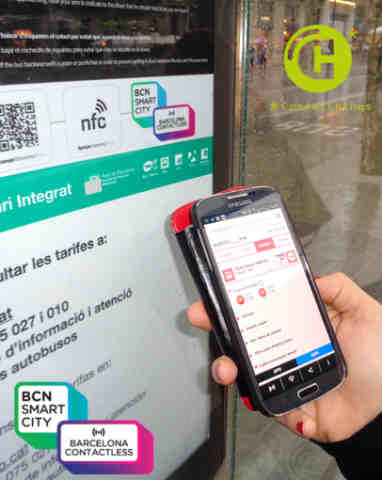 Connecthings, a contactless and proximity services company, and Barcelona City, a smart city, are pursuing their collaboration with the extension of the "Barcelona Contactless" service in more than 8,000 locations across the City.
On the occasion of the opening of the Smart City World Expo, an event taking place in the Catalan Capital, the City inaugurated the new "Barcelona Contactless" service and platform.
The project, at the heart of the "BCN Smart City" initiative, is a city-wide service offering dynamic mobile information to citizens and visitors where and when they need it through various contactless technologies, including NFC (one-touch access to digital content).

With this expansion of the project, thousands of places and objects in the city will be connected to relevant and contextual information: the whole network of bus stops, all subway stations, all parking meters, many public buildings and a lot of urban furniture will be equipped.
This service becomes a local communication channel allowing to promote the city's events, applications or partners.
"By using contactless stickers which are visible, practical and offering relevant information, the 'Barcelona Contactless' initiative is a very concrete implementation of the 'Smart City' approach of Barcelona", says Sergi Jerez, Mobile E-government and Data Director of Barcelona City Council.
Connecthings cloud-based platform allows managing interaction points (NFC, QR codes, Beacons) and their associated contextualized services: proximity services, mapping, coupons and e-ticketing, interactions with mobile apps, etc. Connecthings is based in Paris, Barcelona, Milan, Berlin and Rio de Janeiro.
Leave a Reply