Amitabh Bachchan Stars in Social Media Campaign #WeAreEqual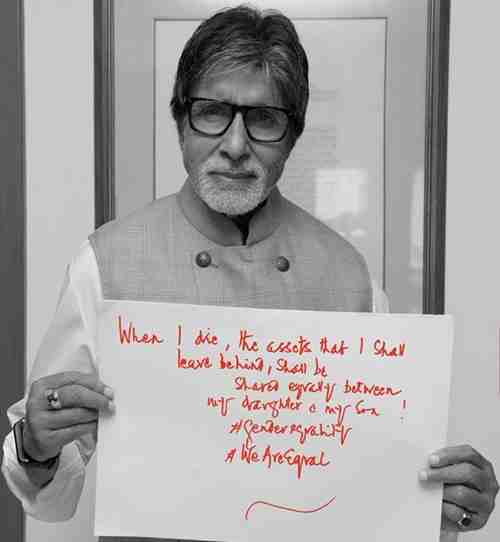 Leading up to International Women's Day on March 8, the Ministry of Women and Child Development in India has initiated a social media campaign – #WeAreEqual – to raise awareness about gender discrimination.
The government says the campaign takes a positive approach, engaging both men and women across the cross-section of the society and reflects their personal effort at creating a more equal environment.
[ Dear Mr. Arun Jaitley, Please Help the Poor Kids ]
The #WeAreEqual campaign is gaining momentum with the partnership by prominent personalities such as film actors Mr. Amitabh Bachchan, and Ms. Dia Mirza; sportspersons Ms. Mary Kom and Mr. Sangram Singh and ISRO scientists Ms. K Thenmozhi Selvi, Ms. Subha Varier, and Ms. Minal Rohit among others.
The Ministry also has produced a short video reflecting the views of the general public on gender discrimination and the need for equality.
Photo courtesy: Ministry of Women and Child Development