Yahoo Messenger Gets a New Modern Platform
|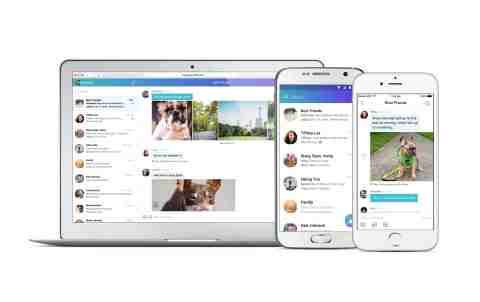 Yahoo! Inc. introduced Thursday a brand new Yahoo Messenger for mobile, the Web and in Yahoo Mail on the desktop.
According to the company, Yahoo Messenger makes sharing, unsending and liking messages, photos and animated GIFs easy and fast. Built on a new modern platform, it understands the relationship between contacts so adding people to group conversations is fast and simple.
Powered by Flickr's photo platform, you can instantly send photos using the simple upload tool. The photos you share are displayed in a photo drawer that scrolls horizontally, so they can be viewed in the context of the conversation, without interrupting the flow of the conversation.
In a Yahoo Messenger conversation, it's easy to search and find the perfect GIF to send. Powered by Tumblr, there is a GIF button in the message box that opens a GIF search and also displays a collection of the top trending GIFs on Tumblr.
Users can avoid potential embarrassment with the unsend feature. Simply tap on a message, photo or GIF and select "Unsend" to remove it from a conversation; not only from your view, but everyone else's too. In Yahoo Messenger you can "like" a photo, message or GIF with a tap.
Yahoo Messenger desktop users (on the Web or in Yahoo Mail on the desktop) can also enjoy Account Key, which uses push notifications to provide fast and secure access to your account from the Yahoo Messenger mobile app. It frees you from memorizing complicated passwords, and makes signing-in as easy as tapping a button.
Yahoo Messenger is available globally in the Apple App Store and Google Play as well as on the Web. Yahoo Messenger in Yahoo Mail on the desktop is rolling out globally. The apps are English only but will be available in local languages soon.
Leave a Reply