What Makes John Mcguinness So Fast?
|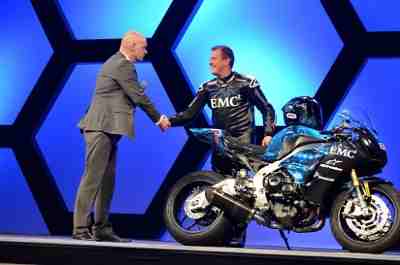 At the Isle of Man TT races on Tuesday, EMC Corporation (NYSE: EMC) announced the results of new data analytics competition, designed to unlock the secret of what makes John McGuinness so fast.
John, also known as the 'Morecambe Missile', is a legend in the motorcycle racing world with a distinguished 25-year history in motorcycle racing, and is a 21-time winner at the famous Isle of Man TT races.
At the Circuit Monteblanco in Spain, EMC captured over 700,000 rows of performance, biometric and mechanical data from sensors fitted on the racing suits and bikes of both John and a control subject, Adam "Chad" Child, Senior Road Tester with Motor Cycle News.
Engine RPM, lean angle, g-force, pulse and respiration were some of the variables that were measured moment by moment during the race, to help uncover exactly how the rider interfaced with machine.
The data sets from John and Chad were released to the data science community in the form of an open competition hosted on CrowdANALYTIX to uncover the most compelling insights and answers to the simple question: what makes John so fast?
The competition provided a broad range of insights into John McGuinness' racing style. The winner of the data analytics competition, Stefan Jol of a leading UK radio group split up each element of the track for analysis.
This allowed them to be assessed and, like any business process, the data identified which stages had the most impact on overall performance. As a result a bike can be set up for the most important elements of the track, and the information can guide the rider on where best to focus.
The winner of the visualization piece, Charlotte Wickham, assistant Professor of Statistics at Oregon State University, made the relative performance of each rider more apparent to the non-data scientist.
By displaying them on the track, the difference in cornering was made very clear. While one entered the corner faster, this didn't equate to a fast exit. John McGuinness braked harder, taking a better line, which in turn allowed him to accelerate quicker and exit at a faster speed.
Of the 750 participants, only 28 could complete the task and two took the grand prize.
The preliminary findings were so intriguing that EMC will repeat the experiment with a more elaborate array of sensors at the Isle of Man TT, where they will capture significantly more data which will be analyzed to more definitively answer the question: What makes John McGuinness so fast?
The project has also been documented in a film, to be released in the Autumn of 2015. A trailer for the film premiered at the TT races.
In the picture above: John McGuinness, a.k.a 'Morecambe Missile', with EMC CMO Jonathan Martin.
Leave a Reply